Is Elon Musk manipulating crypto markets? After a series of Twitter posts that have acted as a catalyst for big moves in the cryptocurrency market in recent months, Elon Musk has come under heavy criticism from investors and cryptocurrency enthusiasts, who question whether the billionaire can really position himself the way he's been doing.
Elon Musk's tweets have a history of impacting the stock market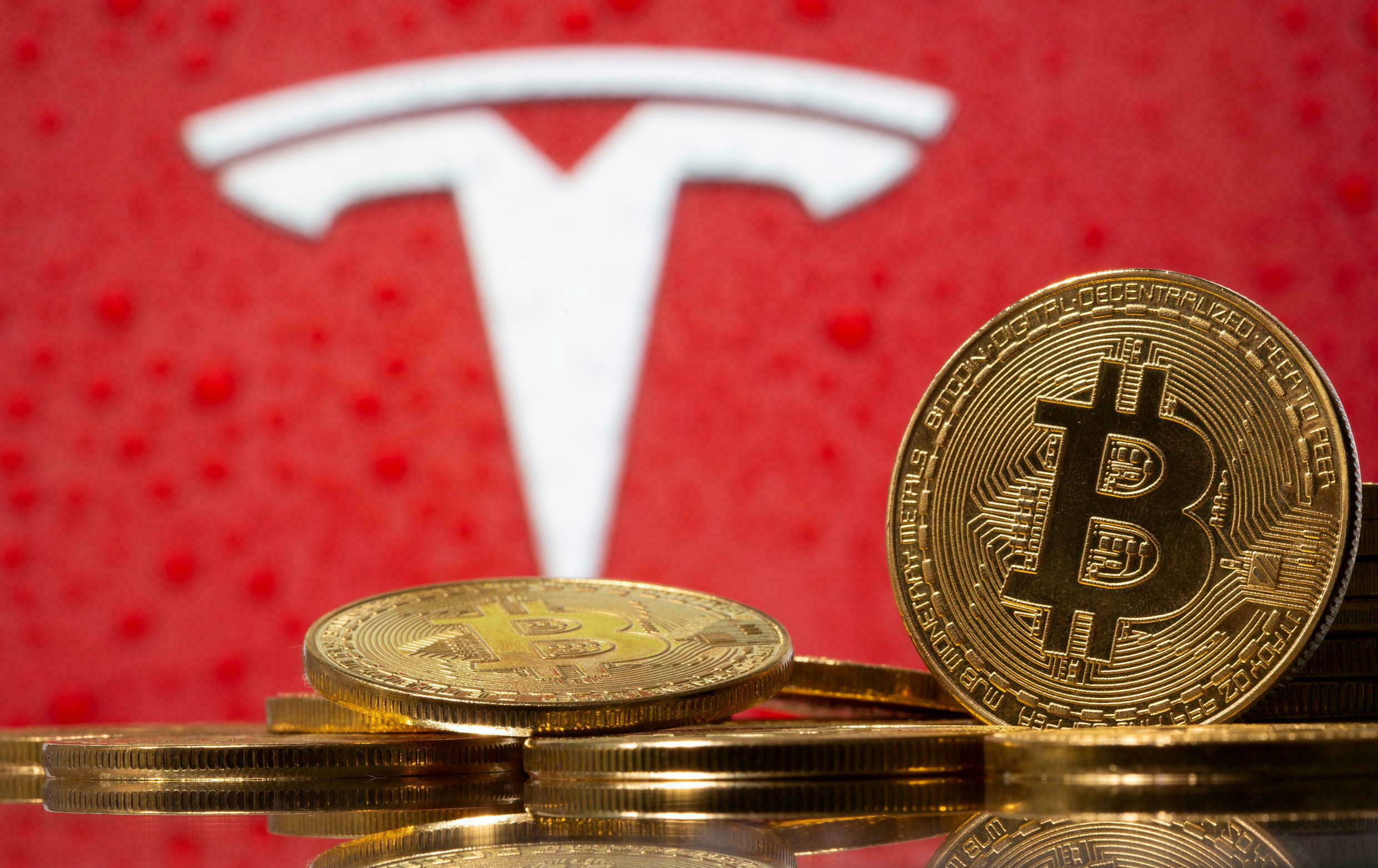 One of the richest men in the world, Elon Musk has a net worth of approximately 184.7 billion dollars according to Forbes, and is the CEO of SpaceX and Tesla, the largest electric car maker on the planet.
Elon Musk has been monitored, since 2018, by the Securities and Exchange Commission (SEC), for attempts to manipulate the US stock market using his publications on Twitter, which, according to SEC, may have been made with ulterior motives. According to the SEC, Musk's Twitter posts could possibly bias the decision making of thousands of investors.
Since then, Musk received a fine of 40 million dollars. Also, Tesla was in charge of overseeing Musk's activity on the social network to ensure that his publications were within the rules imposed by the regulatory authority.
On May 1, 2020, however, the automaker's shares plummeted after an Elon Musk post that said "Tesla stock price is too high imo." After the publication's impact, represented by a 10.3% drop in the company's share price and a huge loss for many investors, the SEC publicly took a stand: "In view of Mr. Musk in sending your written communications on Twitter for Tesla's pre-approval, we are very concerned about Tesla's repeated rulings that there were no standards violations due to possible achievements," the SEC said in a letter sent on May 8 2020.
Tesla stock price is too high imo

— Elon Musk (@elonmusk) May 1, 2020
On June 2, 2020, the billionaire played with the acronym of the US Securities and Exchange Commission: "SEC, three letter acronym, middle word is Elon's". According to the Wall Street Journal, Tesla's outside counsel stated that regulators are trying to "harass and silence Mr. Musk".
Is Elon Musk manipulating crypto markets and Bitcoin?
So far, all of the SEC's allegations are linked to the impacts of Elon Musk's publications on the stock market. But large institutions and investors in the cryptocurrency market also criticize Tesla's CEO harshly, mainly because of his speeches related to cryptocurrencies. Many go as fas as say that Elon Musk is manipulating crypto markets.
According to them, as they reach millions of people on the social network, the publications act as a catalyst for sudden movements in the market, which in turn, brought great variations to the portfolio of cryptocurrency investors. Thus, in turn, these tweets by Elon Musk could be manipulating the crypto markets. Elon Musk currently has 58.8 million followers on his twitter profile.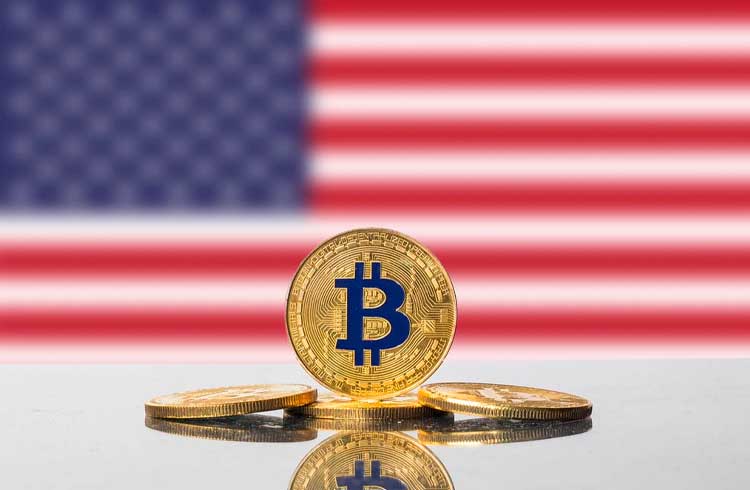 In February of this year, Blockchain Research Lab, a technology and blockchain research institution, released a survey on the real impact of Elon Musk's publications that directly addressed cryptocurrency. The objetive of the survey was to analyze if Elon Musk is indeed manipulating crypto markets. According to the study, after Tesla's CEO publications mentioning cryptocurrencies, it was possible to identify a sharp increase in the volume of negotiations in the market, which caused large variations in the prices of some cryptocurrencies, especially Bitcoin and Dogecoin, Elon Musk's darling cryptocurrency-meme.
Conducted by Lennar Ante, the study investigated six Elon Musk activities related to cryptocurrencies on Twitter and obtained the following results:
– The change in the description of the Twitter profile from Elon Musk to "#bitcoin" on January 29, 2021 caused the price of bitcoin to jump 6.31% in thirty minutes, which reached a high of 13.19% in one hour and 18.99% at its peak, seven hours after the change;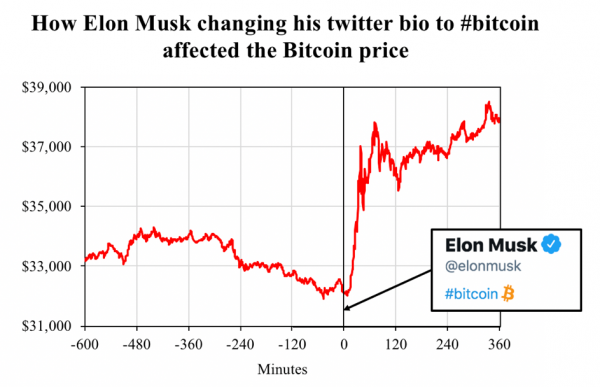 The publication that contained "One Word: Doge" in its text resulted in an 8.17% increase in dogecoin prices in just 5 minutes, reaching 17.31% in just one hour.
In addition to a positive impact on cryptocurrency prices, as did the drop in Tesla share prices, Musk was also listed as a catalyst for the sharp drop in bitcoin prices in May 2021, the worst month for cryptocurrency in ten. years old.
On May 12, the billionaire announced on Twitter that he had suspended the use of bitcoin to purchase Tesla cars, due to the environmental impact of the cryptocurrency mining process. A few minutes after publication, the price of bitcoin corrected again, registering a drop of almost 9,000 dollars in just over two hours, equivalent to -16.2%, causing the asset to lose more than 100 billion dollars in market value.
Can Elon Musk continue to influence the financial and crypto market?
It is undeniable that as a very popular figure, especially in the financial and technology markets, especially among the younger generations, Elon Musk's publications have a very wide reach and have the ability to distort the view of an entire market in this regard. asset, such as bitcoin or Tesla's own shares.
When his publications directly affect some sector of the traditional financial market, the US Securities and Exchange Commission may file a lawsuit against the billionaire and even against Tesla, depending on the severity of Musk's posts.
Still, given that the cryptocurrency market is not regulated in the US, there is no type of punishment that can be applied to the CEO of Tesla by the SEC or by the Commodity Futures Contract Trading Commission (CFTC), which despite recognizing the bitcoin as a commodity in the US cannot apply any penalty to the billionaire or Tesla, mainly because regulation in the country is still being built. That said, even if Elon Musk was indeed manipulating crypto markets, there's nothing authorities can do, since it's an unregulated market.
Elon Musk has been dividing opinions between madness and genius, Tesla's self-proclaimed "Technoking" has built an unquestionable legacy that has many people interpret his words as an absolute truth, especially within the realm of technology.
With this in mind, it is possible to infer that Elon Musk's alleged manipulation of the crypto market does not have just one culprit, but a few millions.
In addition, it is also worth noting that the discussion about what Tesla's CEO may or may not say on social media also comes up against the conflict between power of influence and freedom of expression, mainly because a good part of his publications travel along this fine line, which it should be analyzed more closely by regulators to define more clearly what the limits for their comments are. With all this in mind, the answer to the question 'is Elon Musk manipulating the crypto market with his tweets?" should be answered individually by each investor.