Although cryptocurrency's price is quite volatile, one thing is certain: crypto market is very promising. We analyzed the sector and here is a list of the top 10 cryptocurrency to invest in 2021.
Cryptocurrency market overview
So far, 2017 has been considered the best year for the cryptocurrency market.
Data from CoinMarketCap reveals that in January 2017, Bitcoin was quoted at $ 998.62 per unit reached a high of $ 19,758.20 on December 17 of the same year, with an appreciation of 1,978%.
From then on, many investors bet heavily on the crypto market, contributing to the overvaluation of digital currencies, and many made their fortunes even before they were 30 years old.
After many years away from this value, in 2020 Bitcoin reached the value of $ 20,000 for the first time. From then on, the entire cryptocurrency market returned to gain strength and have strong signs of being promising, according to the data presented in the table below.
Top 10 Cryptocurrency in 2020
| Cryptocurrency | Performance (2020) |
| --- | --- |
| Bitcoin (BTC) | 📈 +299% |
| Ethereum (ETH) | 📈 +462% |
| Ripple (XRP) | 📈 +14% |
| Cardano (ADA) | 📈 +449% |
| Litecoin (LTC) | 📈 +195% |
| Bitcoin Cash (BCH) | 📈 +36% |
| ChainLink (LINK) | 📈 + 530% |
| Stellar (XLM) | 📈 +195% |
| Binance Coin (BNB) | 📈 + 174% |
| Polkadot (DOT) | 📈 +170% |
Best performed cryptocurrencies in 2020. Source: CoinMarketCap.
From the data presented above, it is evident that 2020 was an excellent year for the cryptocurrency market. The question is: what are the best cryptocurrencies to invest in 2021? Read on and find out!
Best cryptocurrencies to invest in 2021
Knowing how to identify the best cryptocurrency to invest requires time, analysis and patience. After all, the crypto market changes every moment.
When analyzing the top 10 cryptocurrencies to invest in 2021, we are based on criteria such as: ranking in CoinMarketCap, performance in 2020 and opinions from crypto market's experts.
However, it should be noted that these classifications are for general information purposes only. Cryptocurrency trading carries a high level of risk and may not be suitable for all investors.
10. VeChain (VET)
Price: $0.1306
Market capitalization: $8,392,303,748
CoinMarketCap position: #18
The blockchain technology niche for VeChain is supply chain management. The cryptocurrency aims to use the decentralized use of the Internet of Things (IoT) and create an ecosystem that oversees various supply chains.
The idea behind VeChain is to increase the efficiency and transparency of shipping procedures, while reducing costs and providing greater control to users.
Cryptocurrency brings real innovation to industries that have remained stable over the years.
Despite the VET low of $ 0.023 between March and August 2020, the cryptocurrency made a profit of 1,478%, followed by a correction of about 63%. Currently, the VET is already making up for most losses and creating solid support before a further upward movement.
In the opinion of specialist Benjamin Cowen, the one of the investments in VET between March and December 2020 yielded a record ROI (return on investment), second only to the LINK token.
If this momentum is maintained, there is a high chance that the VET will break its ATH in 2021 and experience further significant increases.
9.Stellar Lumens (XLM)
Price: $0.4839
Market capitalization: $11,090,589,814
CoinMarketCap position: #14
Stellar's goal is to facilitate payments across borders. Thanks to the quality of the project, the cryptocurrency is partnered with big names like Deloitte and IBM.
By the end of 2020, XLM had an overvaluation of 170% even after the fall of the XRP, and everything indicates that the cryptocurrency has great growth potential in the coming years.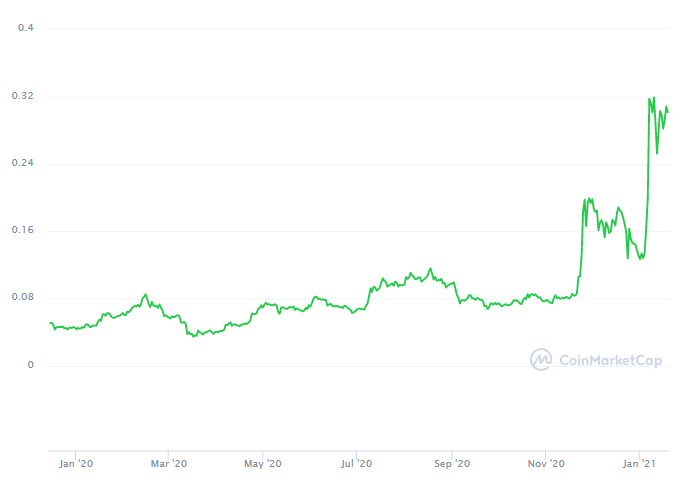 8. ChainLink (LINK)
Price: $31.73
Market capitalization: $13,249,362,451
CoinMarketCap position: #10
In 2019, Chainlink had been the cryptocurrency with one of the best records on the market. The optimistic scenario returned to repeat itself in 2020.
After increasing by more than 500% in 2019, ChainLink rose 530% in 2020, holding one of the best results in the top 10.
Another advantage of investing in ChainLink is that the cryptocurrency has already broken its price record in 2021, a fact that says a lot about its future potential.
7. Uniswap (UNI)
Price: $29.73
Market capitalization: $15,699,743,148
CoinMarketCap position: #8 position
By combining the growth potential of trading platforms with decentralized finance (DeFi), which is undoubtedly one of the biggest hits in the crypto world of 2020, we get decentralized exchanges (DeX).
Leader in this niche, Uniswap presents several indications that its popularity in the crypto market will continue in 2021.
According to data released by DeFi Pulse, the number of users on DeFi increased more than 10 times in 2020, starting with less than 100,000 and ending with more than 1 million.
Launched in September 2020, UNI has its own governance token. Such differential adds to the cryptocurrency a new profit potential for its users, in addition to the possibility of a real and optimistic impact on its future.
6. Polkadtot (DOT)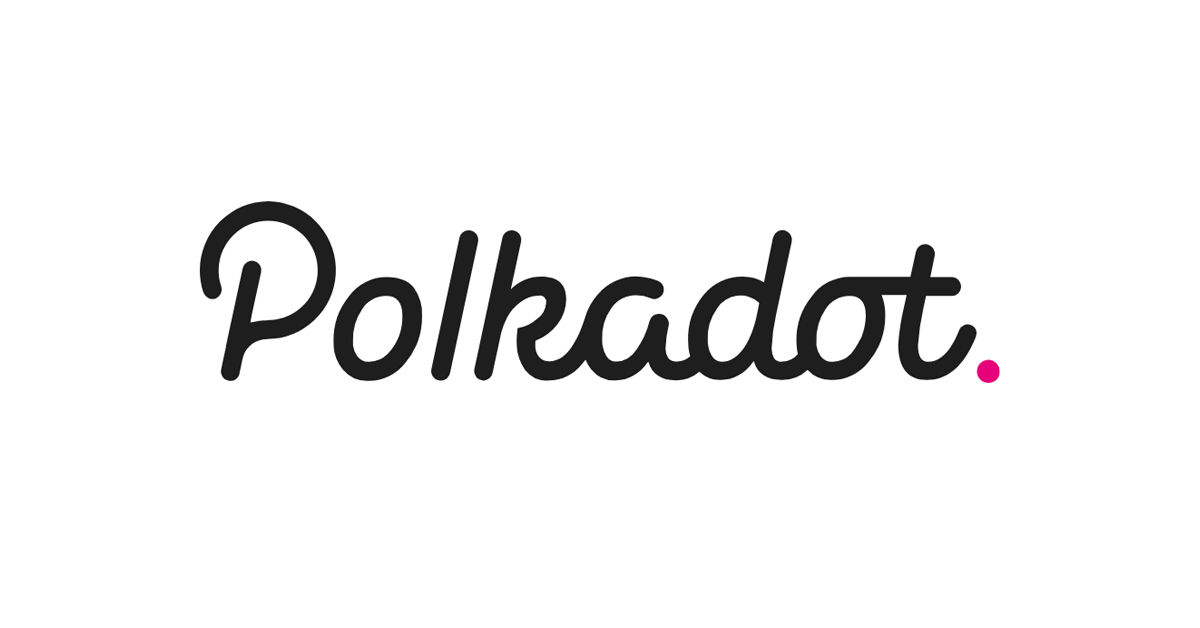 Price: $40.70
Market cap: $37,773,198,975
CoinMarketCap position: #7
Polkadot is an open source for fragmentation. In this way, it becomes possible for data and tokens to be transferred between different blocks on the blockchain. The cryptocurrency aims to create a totally private and decentralized network for the development of services and applications.
In September 2020, a listing of the major cryptocurrency exchanges pushed the price of DOT to an ATH of $ 6.84. However, despite the correction, the cryptocurrency has stabilized and shows excellent growth for a positive price action in 2021.
According to experts, DOT is moving in the right direction to become one of the most important cryptocurrency projects. According to Lark Davis, one of the biggest influencers of cryptocurrencies on YouTube, the growing growth of DOT is already dominating the competition, especially Ethereum.
However, one of the creators of Ethereum recently stated that Polkadot should not be seen as an "Ethereum killer", but as a blockchain maximal killer.
Other experts also believe that if Ethereum ends up becoming an interconnected chain, there is a great chance that the two cryptocurrencies will coexist in harmony.
5. Cardano (ADA)
Price: $1.21
Market cap: $38,652,028,059
MarketCoinCap position: #6
Although not much commented, Cardano (ADA) is one of the first cryptocurrencies created, being a reference project for several years. Created by a team of experts in technology and engineering under the command of eccentric Charles Hoskinson, Cardano's goal is to promote positive global change by providing tools for creators, innovators and visionaries. For this, it has a platform of smart contracts (Goguen era) built from a decentralized public blockchain and a token: ADA.
Despite the drastic declines that have followed in recent years, the currency has recently managed to rebound and move more confidently to new annual highs.
In 2020, this cryptocurrency appreciated by almost 450%, according to CoinMarketCap.
In addition, ADA's price action results earned it a solid third position, behind LINK and VET, in high-capitalization rating projects, thus resulting in higher returns for investors. In that regard, for example, a blockchain enthusiast, @CardanoDan, recently shared a tweet emphasizing that the ADA could soon surpass LINK.
Updated look at performance of #crypto majors compared to #stocks & #metals since March lows.#Cardano $ADA could make a bid to overtake #Chainlink $LINK S🔴🔴N. pic.twitter.com/lRByZmIa1e

— Card₳no "Moon" Dan 🇺🇸 🇯🇵 🇪🇹 (@CardanoDan) December 15, 2020
This is an excellent prognosis for the year 2021, since Cardano may become the project that will bring exceptional results in 2021, not only in technology, but also in investments.
4. Binance Coin (BNB)
Price: $414.28
Market cap: $64,416,996,051
CoinMarketCap position: #3
Everything indicates that, if 2021 is the year of cryptocurrencies, trading platforms should be in the limelight and generate great benefits.
Launched by Changpeng Zhao (CZ) in July 2017, in China, Binance holds the largest volume of trades, offering access to hundreds of cryptocurrencies.
In February 2021, Binance became the third largest crypto by market capitalization for the first time, reaching the mark of US$34.4 billion, according to data from CoinMarketCap and CoinGecko.
Such growth exceeded CZ's expectations. In a note released on Bloomberg, CZ estimated that Binance would generate profits between US$800 million and US$1 billion in 2020, can be justified by its entry into the DeFi market through the launch of the Binance Smart Chain. The project aims to deal quickly and cheaply with transactions of various classes of assets.
Another advantage of investing in BNB is the reduction in trading fees and the possibility for the investor to use cryptocurrency to buy other tokens.
3. Litecoin (LTC)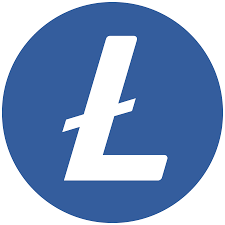 Price: $220.59
Market capitalization: $14,978,631,329
CoinMarketCap position: #9
Litecoin is like silver in the crypto market. Widely accepted as a form of payment in merchants, the cost of your transactions has reduced considerably. Thus, it can be said that Litecoin is a great alternative to Bitcoin for lower payments.
In the last year, cryptocurrency appreciated by 183% and has a solid trajectory, as shown in the graph below:
Another advantage of investing in this cryptocurrency is that Litecoin's price and performance often accompanies Bitcoin – constantly rising in the crypto market – due to the fact that they are very similar cryptocurrencies.
2.
Ethereum ($ ETH)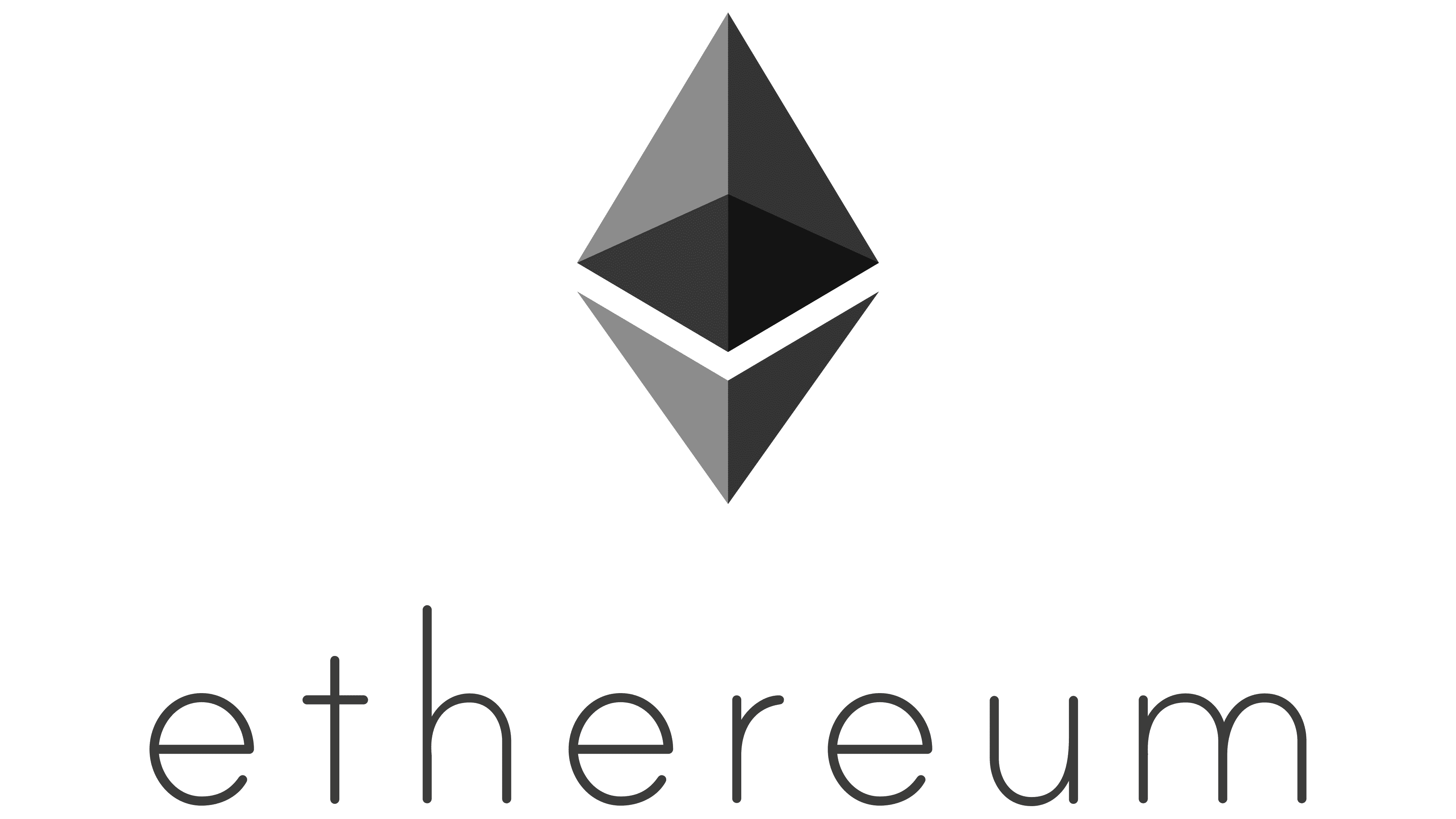 Price: $2,077.01
Market cap: $238,716,803,676
CoinMarketCap position: #2
Several sources indicate that the year 2021 will be revolutionary for Ethereum, the second largest crypto project in the world, and for its cryptocurrency Ether (ETH).
Quoted at just over $ 2 million this year, the cryptocurrency has surpassed its own record.
Founded in 2014, Ethereum is at the forefront of the DeFi revolution. Its main objective is to build a global network for decentralized applications (dApps) that allows the writing and execution of software that is immune to fraud, delays and censorship. In this way, it becomes possible to switch from traditional centralized financial systems to point-to-point finance through decentralized technologies built on the Ethereum blockchain.
In 2020, Ethereum appreciated 462%, registering one of the best performances of the last year among the main cryptocurrencies, according to CoinMarketCap.
Such appreciation can be explained by the launch of Ethereum 2.0. With a change to a Proof of Stake algorithm, the second version of the cryptocurrency will allow investors to passively earn interest by accumulating Ethereum.
With a great cost-benefit ratio, cryptocurrency is a great option for those who are starting to invest in the crypto market. The strength of the $ ETH token correlates with the scale of the network, that is, the token only changes in strength as more dApps and projects are launched on the network.
1. Bitcoin (BTC)

Price: $58,015.21
Market cap: $1,081,412,395,107
CoinMarketCap position: #1
It is very difficult not to consider Bitcoin as the champion of our ranking. Especially when the cryptocurrency broke its own record of $50,000!
Created in 2009 by Satoshi Nakamoto, the reputation of the first cryptocurrency is preceded.
Currently, the cryptocurrency holds 55.25% of the crypto market and is one of the most profitable assets in history, surpassing big names like Amazon, VISA, Microsoft and JP Morgan in terms of ROI by various orders of magnitude.
In 2020, Bitcoin was marked by its third halving, something that for many analysts is enough to trigger the appreciation of the cryptocurrency.
Related or not, the price of the first cryptocurrency appreciated by up to 300% in the last year.
The trend, however, is that the currency will appreciate more and more, according to experts. According to SkyBridge Capital founder and current crypto fan Anthony Scaramucci, Bitcoin could reach $ 100,000 by the end of the year. Whether the value of Bitcoin continues to rise or even fall, there is no doubt that Bitcoin will continue to rule the cryptocurrency market.