Bitcoin (BTC) drops more than 10% this Tuesday, June 8, and loses $32,000 with radar attack regulation and rescue. Despite the fall, the cryptocurrency still accumulates growth of almost 230% in 12 months.
What happened in the cryptocurrency market this Tuesday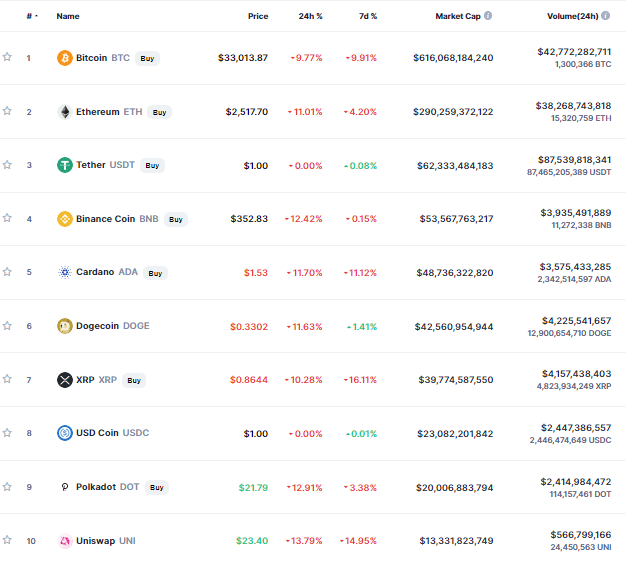 The cryptocurrency market is once again having a day of sharp losses, with Bitcoin retreating more than 10% in 24 hours, while other major digital assets also show losses of more than double digits.
The second largest cryptocurrency in the market, Ethereum (ETH) is also on a downward trajectory, retreating 10.9%, to US$ 2,519.83 at the same time.
The move is causing the entire cryptocurrency market to drop in the double digits, according to CoinMarketCap.
Over the past 24 hours, the total market value of cryptocurrencies has fallen 10% to $1.50 trillion. In the last 24 hours, US$ 1.08 billion in Bitcoin futures contracts were settled.
Why is the price of cryptocurrencies falling
There is no exact reason for the widespread fall movement in the market, but analysts cite security fears after US officials managed to recover most of the ransom paid to hackers in the attack on the Colonial Pipeline.
Court documents show that investigators were able to access the password to one of the hackers' Bitcoin wallets. The money was recovered by a recently launched task force in Washington, created as part of the US government's response to the increase in cyber attacks.
The attack took place in May, when the cyber intrusion completely paralyzed a company's pipeline and stole more than 100 GB of information.
Assistant US Attorney General Lisa Monaco said investigators had seized 63.7 Bitcoins, an amount valued at about $2.3 million. Colonial Pipeline claimed it paid hackers nearly $5 million to regain access to the system.
Discussions about Bitcoin and other digital currencies around the world
This movement is also worrying as agencies from different countries move to create new regulations for the cryptocurrency market.
In recent weeks, Federal Reserve officials have tightened their talk about Bitcoin and other digital currencies, even as the Chinese government has closed its grip on cryptocurrency miners.
After starting the year with strong growth and reaching a historic high of around $65,000 in April, Bitcoin began a correction movement, driven by speeches by Tesla CEO Elon Musk and negative news coming mainly from China.
Last month, Musk announced that Tesla would no longer accept Bitcoin because of environmental concerns, which started a sharp downward movement in prices. According to Elon Musk, the concern is with the growing use of fossil fuels in the mining of new digital currencies, harming the environment.
Musk posted on his Twitter profile: "Tesla has suspended vehicle purchases using Bitcoin. We are concerned about rapidly increasing use of fossil fuels for Bitcoin mining and transactions, especially coal, which has the worst emissions of any fuel."
Musk completed: "Energy usage trend over past few months is insane"
Energy usage trend over past few months is insane https://t.co/E6o9s87trw pic.twitter.com/bmv9wotwKe

— Elon Musk (@elonmusk) May 13, 2021
A few days after this price shock, China's State Council issued a note on a discussion to crackdown on cryptocurrency mining and trading in the country, which put further pressure on the price of digital assets.
With this new drop, Bitcoin now accumulates a high of only 10% in 2021, while the 12-month accumulated gains are 228%.
Ethereum (ETH) history
Ethereum (ETH) is a digital currency built on an open software platform based on "blockchain" technology that allows developers to build and install decentralized applications that execute smart contracts. Ethereum was proposed in late 2013 by Vitalik Buterin, a cryptocurrency researcher and programmer.
Ethereum's "blockchain" value token is called "Ether". It can be used to pay transaction fees and computing services on the Ethereum network.
Ethereum (ETH) and Bitcoin (BTC): What's the difference between these two crypto giants?
Ethereum distinguishes itself from Bitcoin right from the start. While there are some significant technical differences between the two, the most important distinction is that Bitcoin and Ethereum differ substantially in purpose and capability.
– Bitcoin (BTC) was created to be digital money and a store of value, but that makes its programmability limited: you don't want someone to be programming and stealing your money at the same time;
– The Ethereum (ETH) was created to be a development platform and therefore it is easy to program, but this makes it susceptible to vulnerabilities like the parity flaw and the DAO hack.
Basically, Ethereum is a platform, "a blockchain with a well-enabled Fully Turing programming language that can be used to create 'contracts' that can be used to code arbitrary state transition functions", whereas Bitcoin is a currency .
Thus, Ethereum is not Bitcoin's opponent. These two very different blockchains now have two of the largest market caps of any other cryptocurrency.
The future of Bitcoin and Ethereum: a complementary ecosystem
Bitcoin's success and Ethereum's success are not mutually exclusive. In fact, having robust developer communities behind both cryptocurrencies does much to improve the crypto universe's chances of succeeding as a full-fledged industry.
Ethereum may be trying to catch up with Bitcoin in terms of market capitalization, but both Bitcoin and Ethereum can be said to be at the very beginning of their growth and maturation. Time will tell what lies ahead for your communities.