In an increasingly interdependent and connected world, the protection of personal data online is a matter that must be taken seriously. Most transactions and payments nowadays are digital, leaving users completely vulnerable to theft or misuse of personal data. This is where the Utopia ecosystem and its cryptocurrency Crypton (CRP) come in.
Crypton is a cryptocurrency focused 100% on user privacy and security. Let's have a look at the details and functionalities offered by the Crypton CRP privacy coin.
What is Crypton (CRP)?
Crypton (CRP) is a decentralized cryptocurrency and the main payment unit of Utopia ecosystem. Utopia is a freedom-oriented ecosystem, created with anonymity and security in mind, protecting users from censorship.
In the Utopia ecosystem, users can use the internet in a completely encrypted way and have their privacy protected. Digital users can register domains, host websites and issue invoices and payments whilst having their identity and personal data completely protected. This is achieved by using the ecosystem cryptocurrency Crypton (CRP).
This cryptocurrency can also be mined by users, guaranteeing the environment stability and making sure an adequate number of routing connections is available. Another interesting point is that you also receive interest on your Crypton.
According to the Crypton website: "The purpose of mining is to promote the stability of the ecosystem by increasing the number of routing connections. Utopia rewards users that support ecosystem through mining by emission of new Cryptons. When you run Utopia bot you will receive your share of collective reward. In addition to mining, you will receive regular interest on your Crypton balance."
Crypton (CRP): main features
As a privacy oriented cryptocurrency, the main features of the Crypton (CRP) are privacy and security oriented. As part of the Utopia environment, the token offers great versatility, as it can be used in overall payments.
Complete privacy and untraceable transactions
Transactions are processed instantly
All transactions are irreversible
Mine more tokens
Earn interest on account balance
Top tier security featured
Integrated wallet
API for online sellers
Completely decentralized
Crypton (CRP) is stored in the wallets of Utopia users, the so called uWallets. With growing global privacy concerns everywhere, Crypton is a desirable alternative for those who wish to protect their private data and identity online. It's completely ready to use and any user can trade CRP on the Cypton Exchange (no-KYC), based on the Utopia peer-to-peer network.
About the Crypton Exchange
The Crypton Exchange offers the best attributes of any cryptocurrency exchange: automated and also anonymous account registration, low or no fee model, unlimited automated withdrawals, censorship resistance, as well as community chat feature and genuine consideration of user feedback.
Since the Crypton Exchange is part of the Utopia P2P Ecosystem, your balance is protected from censorship and seizure from the authorities. Since the platform is completely anonymous and self-hosted, no authority can issue any sort court order against a specific user.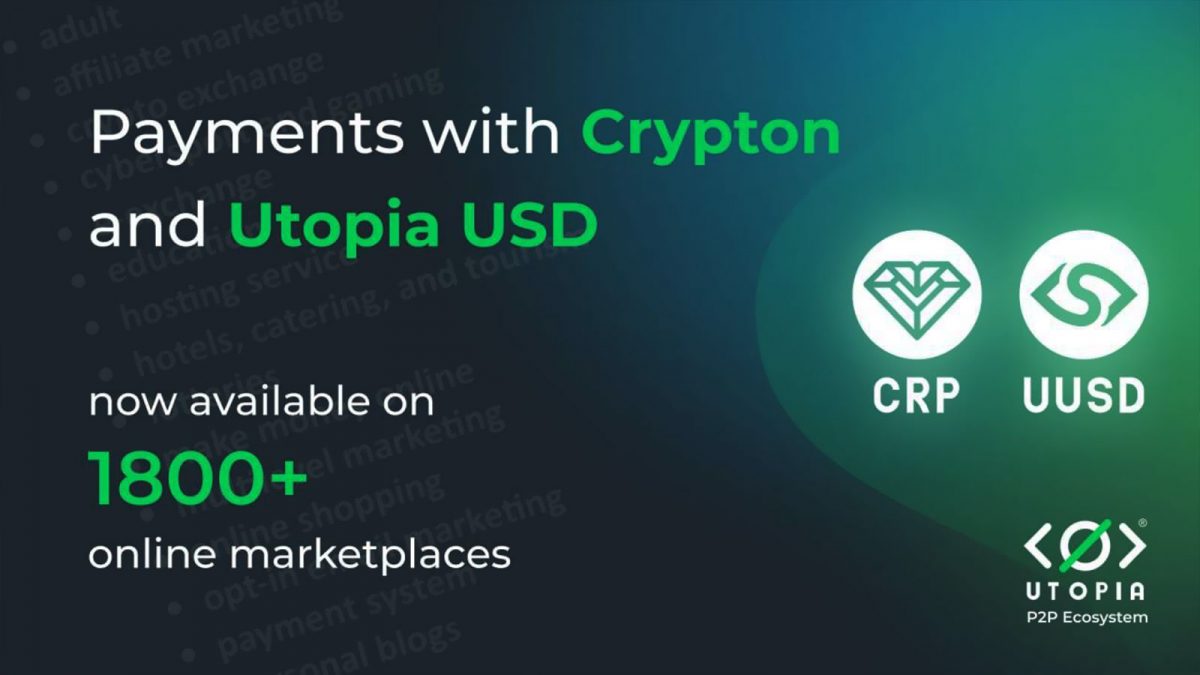 How to register an account?
To register an account in the Crypton Exchange is very simple. All you need is a nickname and a password, just like the Utopia P2P ecosystem itself. The Crypton Exchange uses your public key to authenticate your access in an automated way. That means that there is no request for your real name, phone number or even an email address. Not even your IP address is collected. New accounts are automatically approved without any human intervention and you gain full access to the broker instantly.
A growing community
The ability to interact and communicate with users around the world is one of the most rewarding aspects of the Utopia P2P ecosystem. There are vibrant communities from everywhere in the globe such as Latin America, Vietnam, Turkey, Russia, China and more.
This community is even part of the exchange itself, where there's a chat box integrated directly into the trading interface, thus showing how privacy and anonymity can still be social and friendly.
If you want to know more information about Crypton CRP Privacy Coin and Utopia, be sure to visit the project website: https://u.is/en
About Utopia
Utopia is a freedom-oriented product: anonymity and censorship-free, designed for secure communication as well as anonymous payments and truly borderless free internet. Total surveillance, control of the flow of information and official deception are exactly what Utopia aims to avoid.
With Utopia you can bypass online censorship and firewalls, which means you are free to communicate with whoever you want whenever you want. Freedom of expression is guaranteed by the platform ecosystem. The user's physical location cannot be revealed, as the communication and data cannot be intercepted and read by third parties. Where all your account data is stored on the Utopia user's local device in a file that is encrypted.
The Utopia ecosystem uses two different currencies: Crypton and Utopia USD (stablecoin). Anyone all over the world can shop anonymously using Utopia USD and Crypton CRP as payment methods and the currencies are widely used by shoppers and sellers online to enjoy low commissions and instant privacy protection when paying for services and goods.
The ecosystem also includes multiplayer games, decentralized DNS and domain registration, Tor alternative secure network and Idyll browser designed to browse deep websites that are hosted in the Utopia ecosystem. Crypton and Utopia USD are built on a serverless peer-to-peer blockchain that powers an all-in-one privacy kit for voice communication, instant messaging and more.
The developers behind Utopia are called the 1984 Group and, according to themselves, they are "networking technology enthusiasts who can no longer just stand by the sidelines watching what is happening in the present world, and seeing how the basic values of freedom in our society are being eroded."