Dogecoin jumps 20% as crypto fans declare Doge's Day.
Dogecoin: the "cryptocurrency meme"
Created in 2013 by Billy Markus, Dogecoin (DOGE) is an open source peer-to-peer (P2P) cryptocurrency based on a Litecoin fork code.
With a fun and friendly brand image, the cryptocurrency was inspired by a dog meme, being popularly called "cryptocurrency meme".
In one year, the asset increased 3474%, driven by a wave of ironic endorsements from Elon Musk, Gene Simmons, lead singer of KISS, and rapper Snoop Dogg.
It's inevitable pic.twitter.com/eBKnQm6QyF

— Elon Musk (@elonmusk) July 18, 2020
DOGE Race: Why does the cryptocurrency's price keeps rising?
According to CoinMarketCap, Dogecoin's market capitalization rose from more than USD$1 billion in early January to USD$47 billion on the 17th.
Currently, the market capitalization of the "meme currency" is over USD$53 billion and is worth more than any Brazilian company.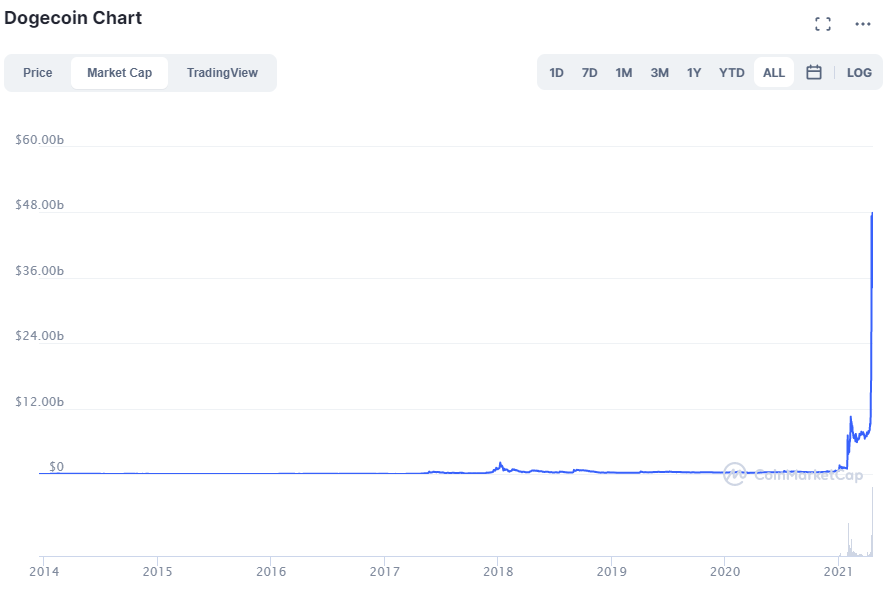 Nobody would have imagined that a coin made to be a joke would shoot the crypto market. Despite this, the currency shot up more than 15,000% and had a return of over 8,100% in the period of one year.
The currency's overvaluation took everyone by surprise, except Elon Musk, who tweeted that something would go to the moon (a term used in the crypto market when a currency is going to go up).
— Cansu (@Cansu25102295) April 10, 2021
The billionaire did not specify which currency he was talking about, but now we can say for sure that it was DOGE. After the tweet, a considerable amount of people bought large quantities of DOGE, causing the price of the cryptocurrency to rise from a 24-hour minimum from $ 0.062 to $ 0.078, an increase of 20%.
In addition to Musk's endorsements, some facts may justify why the price of Dogecoin keeps rising.
The main explanation is the increase in the price of other cryptocurrencies, such as Bitcoin and Ethereum. In addition, the fact that the cryptocurrency broker, Coinbase, went public for the first time on the stock exchange.
DOGE Day: Investors want to take Dogecoin to a dollar this Tuesday (04/20)
The DOGE race looks unstoppable. After crypto fans declared April 20 as DOGE Day, Dogecoin's prices reached a new peak and the "meme cryptocurrency" briefly replaced the payments-focused XRP as the fourth largest cryptocurrency by market capitalization.
Although 99.9% of market experts point out that the cryptocurrency is in a bubble and that its price will collapse, DOGE lovers want to take the asset to USD$1.
The price of a single Dogecoin rose by 20% on Tuesday to USD$0.42 cents, approaching Friday's historic high of USD$0.45 cents, according to data from CoinDesk.
Devout fans of the digital asset are getting together to push the currency in any way to at least USD$0.69 cents.
On Twitter and Reddit, cryptocurrency enthusiasts posted memes with the Dogecoin logo, a Shiba Inu dog, with the hashtags #DogeDay and # Doge420.
I'm just gonna leave this here……
🐶👑 #Dogecoin #Doge #DogeDay420 #DogeDay #DogecoinToTheMoon #DogecoinRise #Bitcoin #Crypto #cryptocurrency #cryptocurrencies pic.twitter.com/Ek9gi99EpN

— Sir Doge of the Coin 🐶 (@dogeofficialceo) April 19, 2021
Social media users have also established links between Doge's Day and Marijuana Day. The date 4/20 – American format – is an unofficial holiday that celebrates marijuana. In addition, the term "420" is often used in the United States to refer to cannabis smoking.

However, April 20 is not just a special date for cannabis users. Many consider the date to be "Elon Musk Day", as it is the favorite day of the billionaire and former public marijuana smoker.
Will Dogecoin reach a dollar?
It is very difficult to be sure whether the digital asset will reach the USD $ 1 mark. To achieve the goal, Dogecoin would have to earn about another USD$80 billion in market.
In other words, Dogecoin would therefore have to rise 150% from the current price to reach USD$1.
Despite being a joke, the truth is that no one knows where the cryptocurrency will go. The currency appreciated more than 8,000% this year. However, any amount invested can be lost in the blink of an eye.
Far beyond a bunch of lunatics saying they are going to pour $ 420 into the digital asset, several people believe Elon Musk will make some kind of DOGE-related announcement tomorrow. In addition, some popular companies are endorsing the date.
Guess what day it is? #DogeDay. Tomorrow? #DogeDay420 😎 (not an actual Snickers pack, just a cool #doge gif) pic.twitter.com/9GAeFsRJU9

— SNICKERS (@SNICKERS) April 19, 2021
🌖🐕 Are you ready for #DogeDay?

Buy #Dogecoin on Kraken or trade with our newest pair: #DOGE/USDT 🚀 https://t.co/zghNQZWBzT pic.twitter.com/U0pmIicHNP

— Kraken Exchange (@krakenfx) April 19, 2021
We're considering accepting @dogecoin as a payment option. RT this if you want this to happen. #DogeDay #dogecoin 🌜

New to us? We sell everything PC, tech, automotive, and more ► https://t.co/urCdU9Q3C4

— Newegg (@Newegg) April 19, 2021
Despite the event, it is always a good idea to do your own research and not make financial decisions based on memes you saw on Twitter.