According to Coin Bureau analyst, even if Bitcoin (BTC) rises more than 50%, Kusama coin (KSM) could witness big gains amid several launches scheduled to take place later this semester.
Bitcoin ups and downs
After hitting an ATH above $64,000 in April, Bitcoin has lost more than half its value and has struggled to return to its historic mark.
Among the reasons for such depreciation of the digital asset are the fact that Tesla will no longer accept Bitcoin as a form of payment because of the environment and China's cryptocurrency restriction policy.
Tesla & Bitcoin pic.twitter.com/YSswJmVZhP

— Elon Musk (@elonmusk) May 12, 2021
After Tesla CEO Elon Musk's tweet on May 12th, the price of BTC has dropped from $54.602.77 to $52,147.82. And after China vetoed operations with Bitcoin, the asset fell below $40,000 and was quoted at $38,819.06.
However, after the information that Musk was holding a meeting with Bitcoin miners in the United States to discuss the use of clean energy and sustainability in BTC mining, the price of the cryptocurrency rose again but it is still struggling to stay above the $40,000 barrier.
Kusama coin has the potential to rise above 100% in the short term
Even if Bitcoin regains its all-time high above $60K, a Coin Bureau analyst claims that Kusama coin, Polkadot's canary altcoin, has the potential to grow above 100% in the short term and surpass the BTC. According to him, the reasons for this statement are great gains amidst several launches scheduled to take place this semester.
Among the releases, Guy highlights parachain slots – scarce pieces of the Polkadot Network that allow other blockchains to interact with it. According to Polkadot, the company intends to have only 100 slots available for projects with cryptocurrencies that want to use parachains. Additionally, each slot will be bid for using KSM tokens.
In addition, the crypto expert also says that, probably, some of the projects launched in the Kusama ecosystem will explode 100 times.
In the video below, you can watch the full review:
KSM price hike
Coin Bureau's analyst also predicts a big spike in the price of Kusama coin, as the launch of Polkadot's parachaisns are dependent on Kusama.
Guy believes that most individuals and institutions planning to participate in Kusama's parachain slot auctions have been accumulating KSM since 2020. According to him, "these early investors are smart enough to know that if they were to wait to buy until the parachain slot auctions started, the sudden surge in demand would send KSM at prices they are unwilling to pay".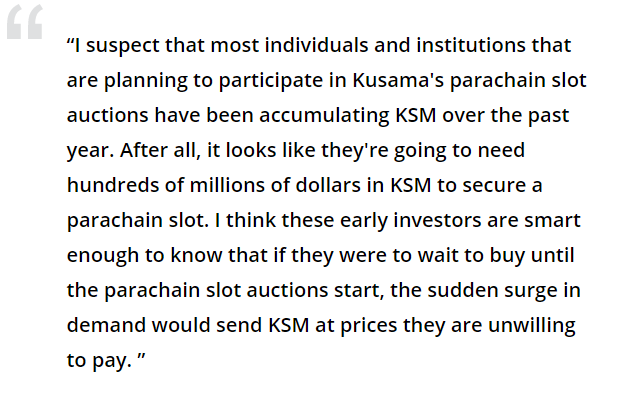 The analyst says that while most of the expectation behind the parachain auctions has likely been quoted, there are likely some players who haven't taken action yet.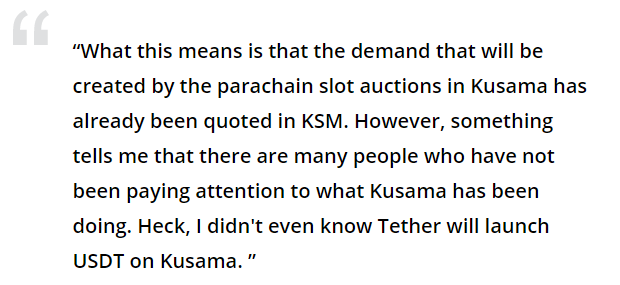 In addition, he predicts that when parachain auctions begin, Kusama could experience a supply shortage that could start a new bull run.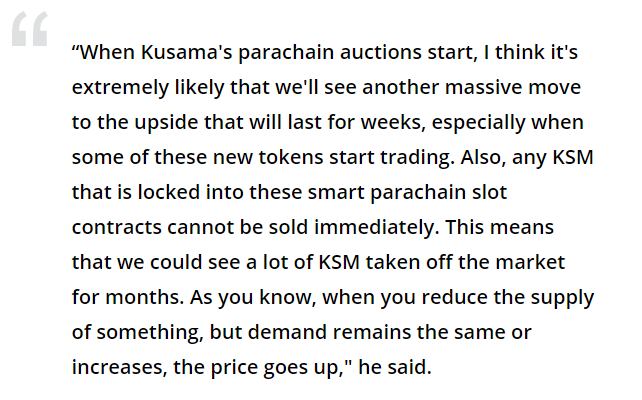 Kusama coin price
Kusama coin is currently quoted at $ 469.51 per currency and its market cap is
$ 3,978,235,162.
In addition, the currency holds 0.25% of the crypto market, with a total of 8,470,098.06 KSM in circulation.