Recently, the cryptocurrency market has grown a lot, attracting investors and millennials. However, China's cryptocurrency restriction policy has impacted the value of many of them, such as Bitcoin and Ethereum.
Moving against the decline of other cryptocurrencies, Polygon (MATIC) has been attracting investor's attention as its volatility has not been strongly impacted. But is this cryptocurrency a good investment?
What is Polygon (MATIC)?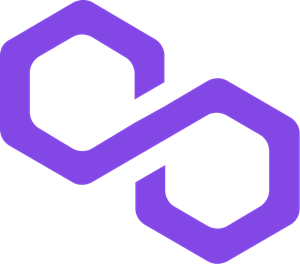 Initially launched as Matic Network in 2017, Polygon (MATIC) was founded by Indians Sandeep Nailwal, Anurag Arjun and Jayanti Kanani.
It is a platform built on Ethereum blockchain that is intended for the development of decentralized applications (DApps).
Unlike Bitcoin and Ethereum, MATIC is not influenced by high transaction fees due to congestion. It is an open source technology that gives developers the tools to instantly implement an autonomous network or secure sidechain, leveraging the security of the Ethereum network through smart contracts.
The Polygon network solves the scalability issues that other cryptocurrencies typically face when built on the Ethereum blockchain, keeping the decentralized look intact. As a result, Polygon is considered synonymous with Decentralized Finance (Defi) transactions. Consequently, many Defi platforms create side chains in the Polygon network.
Polygon: Ethereum's blockchain internet
According to Polygon's official website, Polygon is Ethereum's blockchain internet.
Ethereum (ETH) is the most used blockchain worldwide. For being a decentralized and open source blockchain, ETH quickly gained popularity after its release in 2013, offering smart contract functionality in the form of PoS (Proof of Stake).
However, the rapid adoption of Ethereum comes at a very high price, with high transaction fees that often triple the amount to be transferred. This is due to the large number of users on the ETH network, which significantly reduces transaction scalability.
Against this backdrop, Polygon (MATIC) claims to be the cross-chain scalability solution that provides a framework for building blockchain networks that can connect. Its aim is to bring the scalability and flexibility of alternative chains together with the liquidity, security and interoperability of Ethereum.
In addition, "Ethereum's blockchain internet" plans to unveil two new roll-ups soon: one will bundle a large number of transactions out of the chain into a single transaction. The other will run on top of the Ethereum network to increase transaction speed.
MATIC token: The main DeFi token?
MATIC is an ERC-based token that powers the Polygon Network. Responsible for providing a sizing solution for Ethereum, the token provides several tier 2 side chains that walk alongside the Ethereum mainchain. Polygon (MATIC) users can place their Ethereum tokens into a Polygon Smart Contract, converting the ETH to MATIC in a 1:1 peg.
In this way, users can interact with MATIC on Polygon networks, pay transaction fees and participate in the PoS consensus model. Also, when they wish, they can retrieve the MATIC back to the main Ethereum chain at ETH.
Users can then interact with MATIC on Polygon networks, pay transaction fees, participate in the PoS consensus model. Also, when they wish, they can retrieve the MATIC back to the main Ethereum chain at ETH.
The MATIC token has been very successful since the beginning of the year, climbing to over 7,000% and outperforming BTC's 259.7% and ETH's 90.27% increase. Furthermore, in May, its market value reached more than $6.8 billion. In the same month, its total blocked value amounted to $6.3 billion and its circulating stock totaled around 5 billion coins. With these values, crypto experts are convinced that the currency is on its way to becoming one of the main global symbols of DeFi.
Polygon advantages over alternative blockchains
Polygon's multi-chain system (MATIC) is similar to other Ethereum-based ecosystems, but only in basic configuration. The token offers several advantages for different ecosystems such as Polkadot (DOT), Cosmos (ATOM) and Avalanche (AVAX).
Among its numerous advantages, the following stand out:
Greater security due to its validation system: The various checks and tests carried out against the main and lateral current guarantee a strict security in the system.
PoS System and Heimdall Architecture: Polygon utilizes a set of consensus PoS and Heimdall architecture to increase the scalability and power of your multi-chain system and reduce gas rates.
Multi-chain system: Its own multi-chain system allows Polygon (MATIC) to access the full power of the Ethereum network, without sacrificing its performance or security;
Customizable Technology: Polygon offers a highly customizable technology stack, providing an Ethereum-like user experience for developers. Its features, such as independent governance for unlimited applications, ensure high on-premises data sensitivity. Also, no new protocol level information, token deposits, charges or permissions are required;
Keeps away the competition: Polygon PoS chain, plasma chains, optional shared security, and ZK and optimistic planned roll-ups serve to set it apart from its closest competitors.
MATIC price
Polygon (MATIC) currently holds 0.49% of the cryptocurrency market and is priced at $1.07 per token.
There are already around 6.30 billion MATIC tokens in circulation and their market capitalization is 6.779 billion.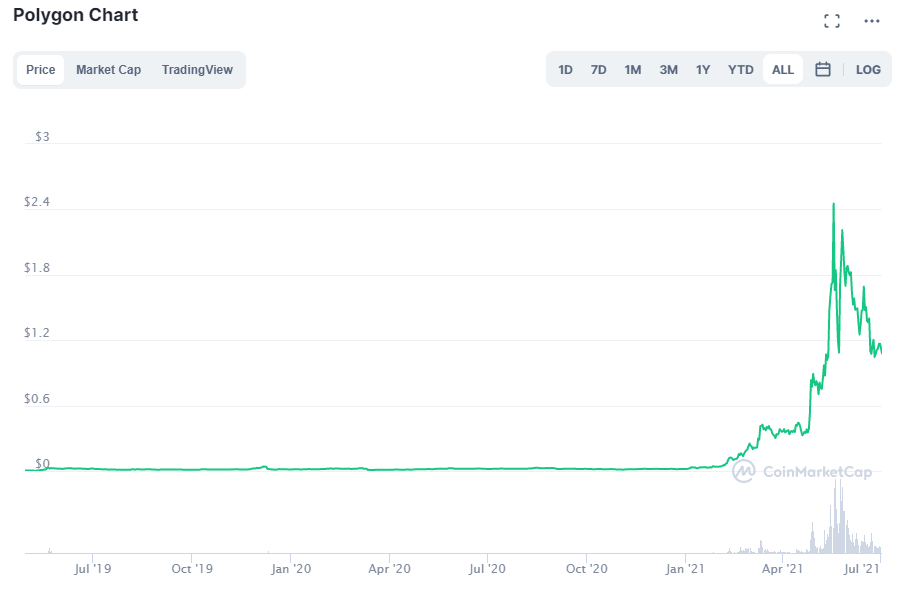 Should I invest in Polygon (MATIC)?
Experts say the recent crash in the cryptographic market has also affected Polygon (MATIC). Before the hit, the digital currency was worth $2.45, which then dropped to $1.38 and is now worth $1.07.
According to these professionals, due to MATIC's advantages over Ethereum, the currency has succeeded in gaining the attention of crypto fans.
They explain that while Bitcoin and Ether govern the crypto market, many investors expect new digital currency options and invest in other cryptocurrencies that have good potential and long-term advantages. Against this background, Polygon is winning the game. Especially after the collapse of cryptography and its steady increase in usage.
In addition, by mid-May, Polygon had 75,000 new users and its community has been growing steadily. This is a clear sign of the digital token's popularity among its users, something that can be very beneficial in the long run.
Additionally, crypto experts claim that network congestion can be a major disadvantage for Layer 1 networks. As Polygon is a Layer 2 network, it demonstrates its advantages in the DeFi world, where there is no payment from high transaction fees to miners. MATIC users can avoid the high fees due to congestion and enjoy the benefits of popular blockchains such as existing code infrastructure, well-founded developer base, and more.
However, experts warn that, like other cryptocurrencies, MATIC is also part of the highly volatile crypto market and its growing popularity should not influence investors' decisions. If a crypto supporter wants to invest in Polygon (MATIC), he or she should look closely at projects that leverage its smart contract capabilities for the Polygon network as well as its growth relative to market share.