The New York-based Museum of Modern Art (MoMA), Refik Anadol, and digital art platform Feral Fire confirmed the launch of a new initiative dubbed 'NFT Burn Mechanics.'
Owners of 9 artworks from the "Unsupervised – Data Universe" collection will get an opportunity to burn them in exchange for some redeemable nonfungible token (NFT) passes.
Famous media artist Refik Anadol confirmed his partnership with the New York-based Museum of Modern Art together with the digital art platform Feral Fire.
These entities have come together to launch NFT Burn Mechanics. The initiative lets art collectors 'burn' their non-fungible tokens in exchange for many other physical and digital perks and artworks.
As part of that initiative, MoMA and Anadol will transform tokens from the "Unsupervised – Data Universe" collection into digital rewards. Refik Anadol's installation is 'unsupervised' and it was on display at MoMA between November 2022 and March 2023.
It consisted of three artificial intelligence-generated artworks that primarily interpret and transform pieces from MoMA's art collection. It should be noted that the latter features artworks collected more than 200 years.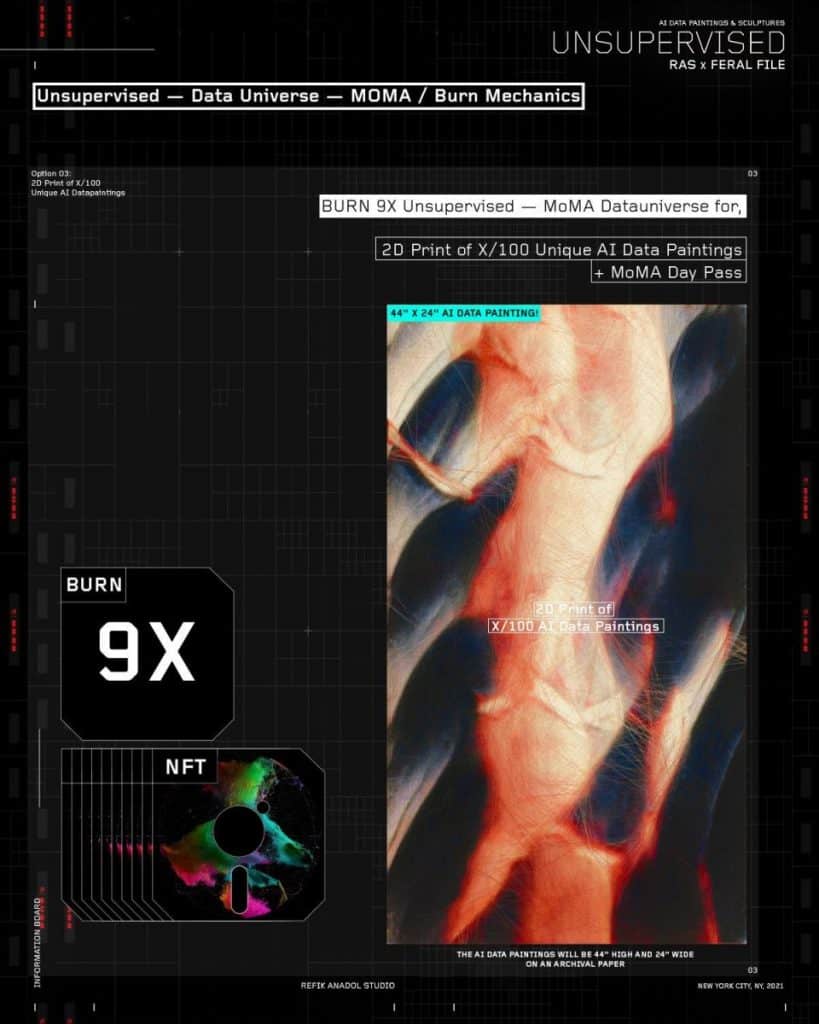 In general, this project strives to attract more investors and collectors, and incentivize secondary sales. Furthermore, the initiative is expected to push the community's and collectors' attention to the possibilities that come with artificial intelligence, which are now getting discovered in a majority of fields.
The collection's description on MoMA's website states:
"Anadol trained a sophisticated machine-learning model to interpret the publicly available data of MoMA's collection."
So, the people who 'burn' nine artworks from the "Unsupervised – Data Universe" collection qualify to get a distinct redeemable NFT pass that provides access to various future activities and exclusive items. For example, collectors might get museum-quality 2D prints of the artworks, up to one hundred distinct AI data paintings, and a full day pass to the Museum of Modern Art.
The first NFT 'burning' event is scheduled to happen from May 19 to May 21 on Feral File.
Dear friends, I am so excited to announce our new NFT Burn Mechanics in collaboration with FeralFile and MoMA starting with MoMA — Unsupervised — Data Universe series, allowing collectors to "burn" their NFTs for new physical and digital artworks and benefits.

As an incentive to… pic.twitter.com/MGovjTs5k5

— Refik Anadol (@refikanadol) May 10, 2023
Interestingly, "Unsupervised – Data Universe" is not the pioneer collection that features pieces developed entirely by artificial intelligence. In 2019, one anonymous AI artist known as "DeepBlack" minted an incredible set of 3,073 AI-generated fine art pieces designed on the Ethereum blockchain.
Nowadays, the art community seems to be exploring the possibilities and opportunities that come with AI. Some artists and enthusiasts think that Artificial intelligence is a great tool that will enable them to find references for their work and hasten the process.
On the other hand, others allege that one needs to be open to being surprised when generating an AI piece. Either way, one thing is for sure, the innovative technology seems to be here to stay for the long term.