Experts in unmasking scams claim that the SafeMoon cryptocurrency has a 100% chance of being a scam. There has been much hype recently over this altcoin.
What is SafeMoon?
SafeMoon is a DeFi token that promises to reward its holders with commissions from sales.
The cryptocurrency was launched on March 14th for USD$0.00000008. Since then, it has gained popularity and increased by more than 3000%. This overvaluation, in turn, drew the attention of several investors, who want to take advantage of the asset's rise. With cryptocurrencies becoming more popular, investors are turning to these assets to achieve higher profits. Investors usually use automatic trading platforms (such as Bitcoin Buyer) in order to profit from market volatility.
In just 30 days, SafeMoon reached a frightening capitalization of USD$6 billion in market value. In addition, in 7 days the asset price reached a record USD$0.00000919 on April 20th.
Currently, the asset price is USD $ 0.000004971 and the market capitalization is USD $ .930,130,034.27.

SafeMoon: Promising project?
According to SafeMoon's official website, the cryptocurrency protocol charges its sellers a 10% fee on the sale price. This fee is used to reward individuals who keep the project active.
This means that investors are encouraged not to sell the assets after buying them. The reason for this is that, supposedly, they will benefit from the sales fees of those who decide to give up the digital asset.
With this strategy, SafeMoon reached more than one million investors worldwide and more than 300 thousand followers on Twitter, even though it is listed in a few crypto brokers.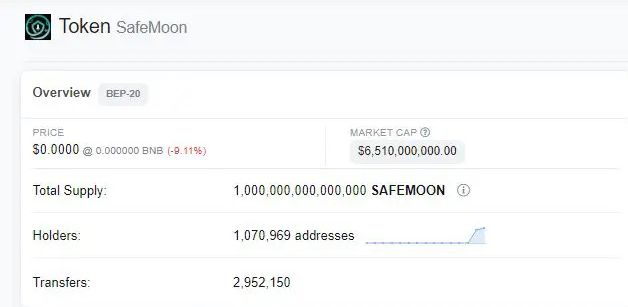 SafeMoon has a 100% chance of being a scam, say experts
Despite its name, which aims to provide the idea of ​​security, SafeMoon has been pointed out by crypto experts as a fraud. Several reviews on SafeMoon suggest that investing in the token is not a safe choice.
War on Rugs
According to the War on Rugs group, which specializes in unmasking frauds in the crypto ecosystem, the probability of SafeMoon being a fraud is 100%, since its creators hold more than half of the liquidity.
"Scam alert No. 115 – SafeMoon #SAFEMOON (0x8076C74C5e3F5852037F31Ff0093Eeb8c8ADd8D3) Reason: the owner has more than 50% of the liquidity. Probability that you will lose all funds: 100% ", claims the group on its Twitter.
❌ Scam Advisory #115 – SafeMoon #SAFEMOON (0x8076C74C5e3F5852037F31Ff0093Eeb8c8ADd8D3)

Reason: Owner owns more than 50% of the liquidity and refuses to fix it. He could pull LP and sell tokens, creating a rug pull.

Likeliness of losing all funds: Absolute

DYOR. #WARONRUGS❌ pic.twitter.com/bzmr9JflWD

— #WARONRUGS❌ (@WARONRUGS) April 20, 2021
In theory, this means that the digital token protocol encourages its investors to keep the asset after its purchase. However, they are dumping their possessions on the market, as they hold most of the supplies.
The fact that investors do not sell the cryptocurrency ends up holding its current price for longer, generating a manipulated high. When we analyze the buy and sell orders, we can see there is high supply and low demand.
Lark Davis
Lark Davis, another analyst known for reporting scams, posted on his Twitter an alert about the project, stating that SafeMoon will not end well.
"I saw dozens of cryptocurrency schemes that are basically identical. It will not end well. Soon, the money will stop coming in and it will collapse, "he said.
Remember just because you make money off of a ponzi does not change the fact that it is a ponzi. #safemoon

— Lark Davis (@TheCryptoLark) April 21, 2021
Davis also compared SafeMoon to the defunct Bitconnect scam. According to him, as in the old scheme, the increase in assets is blinding users to "the obvious".
Bitconnect's scam started in 2016 and promised high returns for those who didn't sell the cryptocurrency. However, in January 2018, U.S. regulators issued a warning against the company. That's when things started to get complicated.
Bitconnect was for a brief moment a top 10 #crypto, the people making money did not want to accept it was a ponzi, they made every excuse to justify it, and attacked anyone who stated the obvious.

Then it rug pulled and everyone lost big time. #safemoon is no different.

— Lark Davis (@TheCryptoLark) April 21, 2021
SafeMoon: cryptocurrency or scam?
According to the data presented above, together with expert analysis, SafeMoon shows all the traces of being a scam. This is already enough reason for anyone to avoid investing in this asset.
At SafeMoon's Reddit, the token founders are participating in several Q&A sessions to reassure investors. However, it's important to keep in mind that usually scammers use this strategy in an attempt to try to keep people in the project.
Crypto market analysts point out that SafeMoon is indeed a scam. Despite this, SafeMoon fans defend it by saying that it "goes to the moon", meaning that they expect the token prices to continue to go up.