Current SEC chief and president, Gary Gensler has made strong statements about crypto. A great debate continues in the United States about the regulation of cryptocurrencies and in a new statement, the president of the Securities and Exchange Commission (SEC), spoke of the need for rules that allow a close monitoring of Organs regulatory bodies on the trading of digital currencies.
Gary Gensler: SEC president advocates for more crypto regulation
Gary Gensler, a professor of practice at the MIT Sloan School of Management, a former US investment banker and a former government official, took over at the SEC earlier this year. Gary Gensler evaluates a robust oversight regime focused on establishing safeguards for the millions of investors who stock their portfolios with tokens.
"Although I'm technology neutral, intrigued even – I spent three years teaching, leaning on it – I'm not neutral on investor protection," said Gary Gensler, who on Tuesday, July 3, delivers a speech on cryptocurrencies on the Aspen Security Forum. "If anyone wants to speculate, it's their choice, but we have a role to protect these investors against fraud."
Gary Gensler urged the US Congress to pass a law that could give the agency legal authority to monitor digital currency trading, though he noted that the SEC's powers are already extensive.
Crypto regulation: What does Gary Gensler propose
In the statement ahead of the Aspen Security Forum, Gary Gensler said: We already live in an age of digital public monies — the dollar, euro, sterling, yen, yuan. If that wasn't obvious before the pandemic, it has become eminently clear over the last year that we are increasingly transact online.
Gary Gensler adds: "Such public fiat monies – the dollar, euro, sterling, yen, yuan – fulfilling the three functions of money: the store of value, unit of account, and medium of exchange. In the single crypto asset, though, broadly fulfills all the functions of money."
Despite this debate, Gary Gensler also said in a recent interview that Satoshi Nakamoto, considered the Bitcoin founder, is an important innovator in cryptography and that the Bitcoin "innovation spurred the development of crypto assets and the underlying blockchain technology."
It is not new that there is a discussion about which cryptocurrencies would fall under the purview of the SEC. On the one hand, assets such as Bitcoin, which have a currency function, are considered commodities, not securities. On the other hand, the executive sees thousands of other cryptocurrencies categorized as unregistered securities and which should comply with the rules of the regulatory body.
In his speech, Gary Gensler highlights the advancement of technology in human history and how it helped economic progress, seeing something similar with digital assets. Despite this, he only sees this evolution with strong and careful regulation.
Gary Gensler draws an analogy with the auto industry, which didn't fully take off until governments set driving rules like speed limits and traffic lights, providing public safety and helping cars become popular. "It's just by bringing things in – and within our public policy goals – that a technology has a chance of broader adoption," Gary Gensler says.
SEC president raises questions about cryptocurrencies
Despite the speeches, any new SEC rule – Securities and Exchange Commission – should not be created in the short term. That's because the regulator has nearly 50 policy reviews that don't involve cryptocurrencies on its radar, such as the GameStop case and regulations for companies to disclose carbon emissions data.
One important point that Gary Gensler did not comment on was the acceptance of exchange-traded funds, or ETFs, something that investors are eagerly awaiting and with the potential to generate a new high in the prices of digital currencies. The SEC has avoided accepting cryptocurrency ETFs, citing concerns about possible fraud and manipulation of the Bitcoin market.
Behind the scenes, Gary Gensler, the SEC chief, has been pressuring SEC members to look at a range of possible policy changes, including seven cryptocurrencies initiatives, involving currency IPOs, trading venues, lending platforms, decentralized finance, stable value currencies(stablecoins), escrow and ETFs and other funds.
Gary Gensler says he thinks regulating cryptocurrency exchanges may be the easiest way for the government to gain quick control over digital token trading. But he's also concerned about new ways people are entering this market, like peer-to-peer lending on so-called decentralized financial platforms, or DeFi.
Elizabeth Warren also wants regulation of cryptocurrencies
Other personalities linked to the US government, such as Senator Elizabeth Warren (D-MA), for example, also raise the flag in favor of the regulation of cryptocurrencies.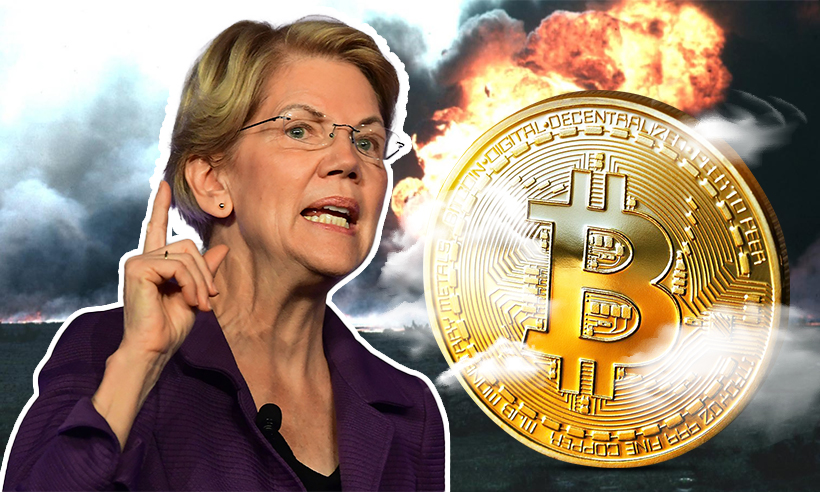 Elizabeth said this month that cryptocurrencies must face tougher rules, while some senators recently proposed taxing cryptocurrency transactions to fund President Joe Biden's infrastructure plan.
Elizabeth Warren is a member of the Senate Banking Committee and a longtime critic of the nation's largest banks, and has pressured Treasury Secretary Janet Yellen to use her powers on the Financial Stability Oversight Board to create a more secure encryption market.
"FSOC must act quickly to use its statutory authority to address cryptocurrencies' risks and regulate the market to ensure the safety and stability of consumers and our financial system," the Massachusetts Democrat wrote in a letter to Yellen. "As the demand for cryptocurrencies continues to grow and these assets become more embedded in our financial system, consumers, the environment, and our financial system are under growing threats," she added.