Final Fantasy maker Square Enix's first Ethereum game is known as Symbiogenesis. From non-fungible tokens (NFT) characters to quests, here is everything you need to know.
Interestingly, Final Fantasy publisher Square Enix first introduced its upcoming blockchain gaming project, Symbiogenesis, in November 2022. The firm has made several moves in the crypto space, but this will be its first proper game in the Ethereum network.
What Is Symbiogenesis?
Described as a "digital collectible art project," Symbiogenesis is a game that will utilize Polygon and Ethereum for its non-fungible tokens (NFT). In the world of the story-based browser game, humanity has seemed to take to the skies and live on a floating continent but has to face the wrath of a dragon.
The ending of Symbiogenesis is not predetermined, however – three lucky players will get to select the game's ending and the fate of its fantasy world. Gamers have to unlock and complete each story chapter and quest to be considered for the final quest.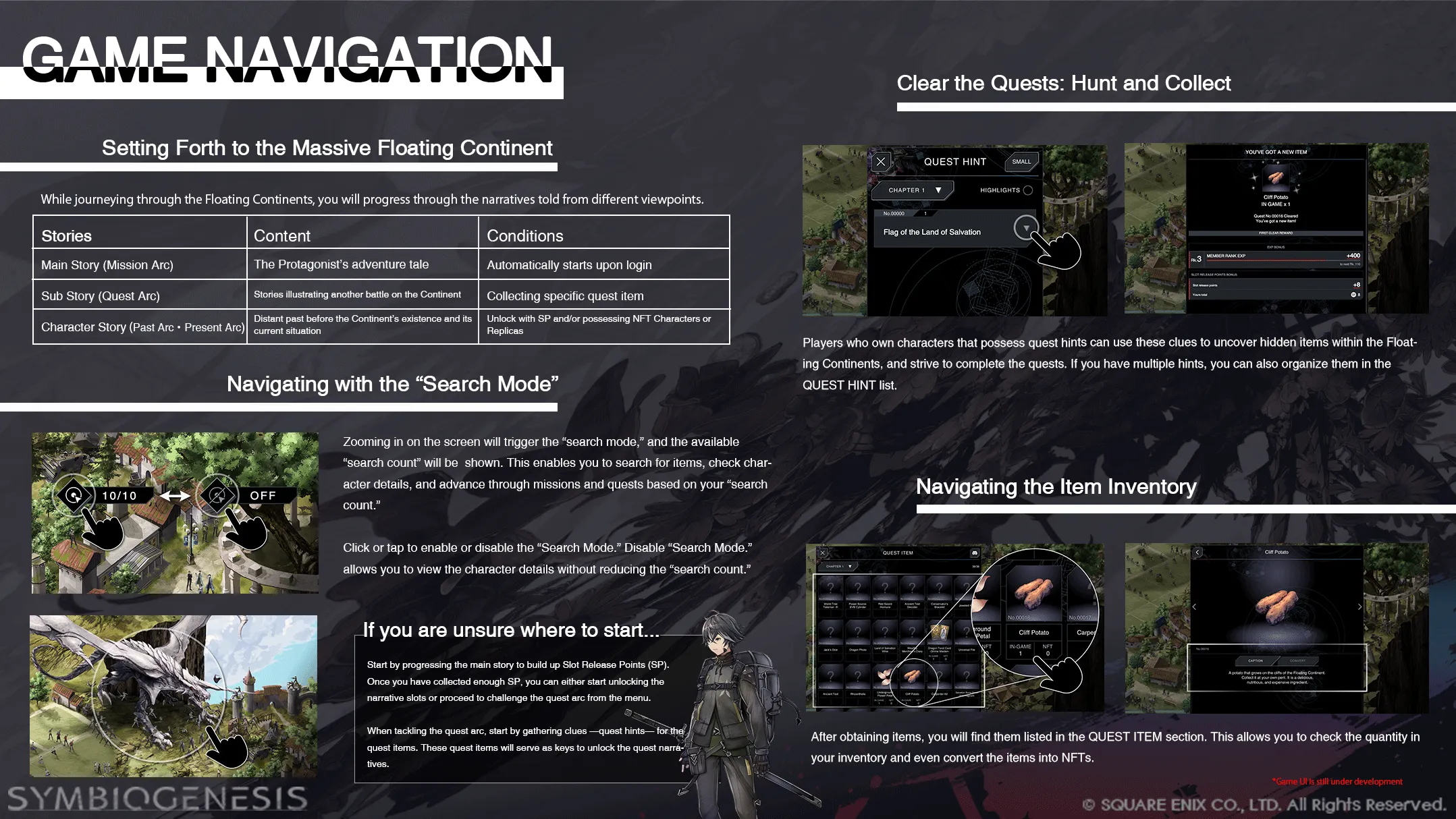 In that context, Symbiogenesis will launch in December 2024.
How To Play Symbiogenesis
Gamers can play Symbiogenesis free without needing to mint any NFTs. Free gamers can follow the game's main storyline but do not have an opportunity to become one of the lucky three players chosen for the final quest.
Purchasing or minting an NFT character unlocks more things to do in the game, but Square Enix will not be offering a traditional NFT mint. Instead, smaller quantities of the 10,000 original character NFT total will become available with the release of every story chapter that slowly reveals the entire game's world.
Square Enix has insisted on the importance of its Symbiogenesis Discord server, promising gamers special Discord server roles for game achievements. Completing different tasks in the Discord server or on social media will enable the gamers to get on the 'allowlist' or presale list to be eligible to buy or mint an Ethereum NFT character.
Some non-fungible tokens will be available free while others will cost cryptocurrency. All replica NFTs will be hosted on Polygon, while the originals will be on Ethereum's mainnet.
Symbiogenesis Game Modes
From a narrative point of view, Symbiogenesis will offer up to six chapters. Gamers will need to complete all six chapters to be eligible to potentially become one of the final three who will have a chance to determine the story's ending.
Symbiogenesis will offer quests and missions. Missions are described as tasks available to all the gamers and will enable players to unlock the main storyline. Quests may need more teamwork and are more involved than missions.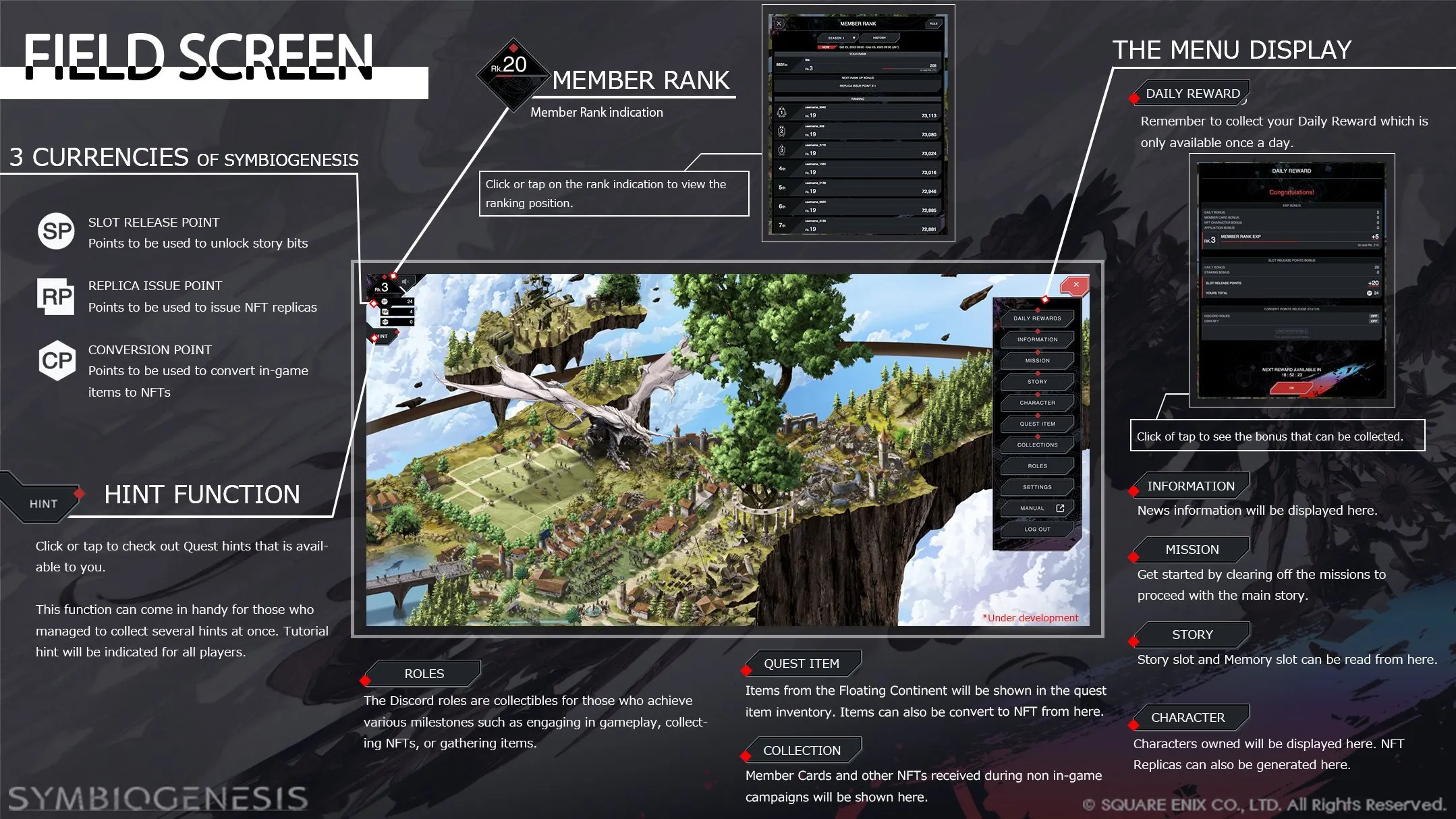 The main game tabs gamers will encounter are Information, Daily Rewards, Story, Missions, Quest Item, Character, Roles, and Collections. While a majority are self-explanatory, gamers can find their character NFTs under the character menu and develop NFT replicas there as well. 'Collection' will hold the gamer's cards and other NFTs, and "Quest Item" holds items collected from adventures and is the place to change items to NFTs too.
Symbiogenesis NFTs can have hints that assist players with achievements in the game. Some items within the game world can be changed into NFTs and sold.
Symbiogenesis will have three synthetic currencies: Replica Issue Points (RP), Slot Release Points (SP), and Conversion Points (CP). Spending SP will help unlock the story sections, CP enables gamers to change in-game items into NFTs, and RP lets gamers issue NFT replicas in Symbiogenesis.