A petition requesting Dogecoin cryptocurrency to be accepted on Amazon exceeds over 200,000 signatures.
Dogecoin on Amazon?
Although the price of Dogecoin fell sharply at the beginning of the year, the cryptocurrency supporters continue to bet on its growth.
According to a petition proposed by the DOGE community on Change.org, Jeff Bezos should evaluate the proposal to accept Dogecoin on Amazon. Thus, customers of the largest marketplace in the world could use this cryptocurrency to buy and sell products.
Doge4Amazon asks for Dogecoin on Amazon
The petition's description states that "Amazon currently does not accept cryptocurrencies as a payment method, alienating many people who do not have a traditional bank account. Amazon.com, being a leader in innovation, should accept Dogecoin as a form of payment. Dogecoin is fast, cheap and stable. It is stable in value, has the lowest transaction fee of other major currencies, has a huge supply of coins and has a very large, active community with on-going development ".
In addition, the petition states that Dogecoin is already accepted and used by many small business owners, entrepreneurs and charities in different regions as a means of buying and selling goods and services.
"It's time for Amazon.com to be one of the first big companies to see the power of Dogecoin and with the huge boost that the Dogecoin community is generating, now is the time for Amazon to accept Dogecoin as a payment method!" declares the petition. It was initiated by user Mark E. on Change.org petition platform.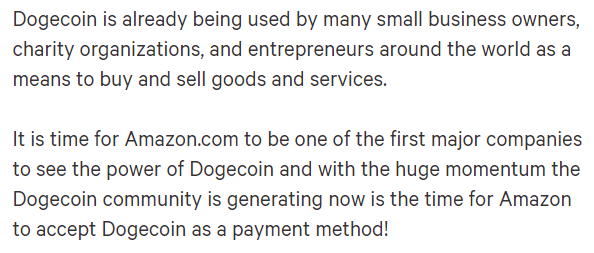 The petition also includes a link directing to the Dogecoin website. There, users can invest in the cryptocurrency.
Although Bezos did not make an official statement regarding the petition, last Wednesday (28), the petition already had about 204,494 signatures. As you can see in the image below, the goal is to reach the mark of 300,000 signatures.
DOGE price
The petition, which started 4 years ago, has regained momentum with Dogecoin's recent appreciation in the crypto market. This movement follows important momentum and activity within Dogecoin's community, following Elon Musk's continued support for the coin and Doge Day. According to CoinDesk, the Dogecoin's price reached a high of USD$0.41 in early April.
At the time the petition was initiated, DOGE was trading at approximately USD$0.27 and its market capitalization was USD$35.6 billion. Currently, Dogecoin's price is approximately USD$0.31 and the market capitalization is USD$39.77 billion.

It is worth remembering that DOGE is the 7th most valuable cryptocurrency by market capitalization.
Sabbir Hasan, one of the supporters of the initiative, compares Dogecoin to Bitcoin. According to him, DOGE has quick transactions. In addition, this altcoin should be the first cryptocurrency to be integrated into Amazon's payment network.
DOGE as a form of payment
Pending the official decision on Dogecoin's acceptance on Amazon, the altcoin is soaring in the market.
In the last week, the cryptocurrency has accumulated an important growth of almost 180%. Such surge, in turn, happened even though the price has dropped nearly 30% recently.
As the Doge4Amazon petition becomes more popular, more companies are beginning to accept the altcoin as a form of payment.
In March, Dallas Mavericks owner Mark Cuban announced that Dogecoin has become part of the payment options for the purchase of tickets and merchandise.
The @dallasmavs have done more than 20,000 #Dogecoin in transactions, making us the LARGEST #DOGECOIN MERCHANT IN THE WORLD ! We thank all of you and can only say that if we sell another 6,556,000,000 #DOGECOIN worth of Mavs merch, #dogecoin will DEFINITELY HIT $1 !!!🚀🚀🚀

— Mark Cuban (@mcuban) March 6, 2021
On April 13, Cuban updated his tweet and stated that "sales of Mavs on Dogecoin increased 550% last month." In addition, the owner of the basketball team stated that more than USD $ 122,000 in goods were sold.
FYI, the Mavs sales in @dogecoin have increased 550pct over the past month. We have now sold more than 122k Doge in merchandise ! 🚀🚀🚀 We will never sell 1 single Doge ever. So keep buying @dallasmavsshop https://t.co/li32cdtcED

— Mark Cuban (@mcuban) April 14, 2021
Dogecoin's official website reveals which companies accept DOGE as a form of payment, such as: AirBaltic, EasyDNS, Post Oak Motor Cards, Kessler Collection, Strange Donuts, BitBurgers, AllGamer, Meltdown Comics, Vapeur Canada, Threaded Concepts and more.