HEXGO is a new NFT brand whose developers have massive plans to become a premier blue chip NFT ecosystem. This private collection of 5,000 Ethereum NFTs will go on sale on October 2, 2022, at 11 AM EST. Nevertheless, you can apply for this exclusive VIP invite-only whitelist today through the official HEXGO NFT Discord.
Notably, HEXGO has already attracted more than 100 partners in the nonfungible token (NFT) space, and the network keeps growing. These NFTs will provide utility never seen before in the NFT space, developing a 50/50 NFT community. The holders will benefit massively, with 50% of royalties and 50% of the mint returning to the community bank and vault.
What Is HEXGO?
HEXGO views itself as a web3 brand that will change the way we view the notion of the NFT community. The project offers a different perspective on the NFT model and strives to disrupt the status quo. Notably, the NFT brand has a vision that offers non-stop action and longevity.
With a team of more than 50 employees, it is a fast-growing company. Moreover, as a registered business, they provide 100% transparency and an experienced team of experts. Furthermore, the exciting team has already announced more than 100 partnerships in the web3 space, including NFT project partners, entrepreneurs, and crypto partners.
The HEXGO NFT 6 Core Utilities
These six core utilities make up the HEXGO hexagon. The utilities will enable the brand to move forward and develop an NFT network that provides heavy-duty utilities and long-term value. These core values include:
HEXGO Club – An exclusive access to a VIP members-only club.
HEXGO VIP Key – you can join different whitelists and get educational materials, tools, and many other utilities.
HEXGO Rewards – access to discounts, coupons, merchandise, events, and gifts.
HEXGO Vault – hundreds of nonfungible tokens will get stored here and given away to the community members. 250+ OpenSea NFTs brought weekly from 100+ HEXGO NFT partners. There are weekly "crack vault" contests and monthly "bank heist" contests that are quite exciting. 50% OpenSea NFT royalties will be sent directly into the vault, and 50% of the mint goes into the bank.
HEXGO Meta Pass – Offers entry into the clubhouse and everything else within the Meta Savages (MS) Metaverse Island.
HEXGO Ecosystem – join more than 100 combined NFT projects in the massive NFT network.
HEXGO NFT Vault Cards
5,000 of the HEXGO NFT Cards are on offer for the exclusive collection, and there are three levels of rarity.
First, there is a Silver Card, then the Gold Card, and finally, the Black Card. Silver Card consists of 3,700 (74%) NFTs, Gold Card has 1,250 (25%) NFTs, while the ultra-exclusive Black Card has 50 NFTs, making up 1% of the whole collection.
Each of these NFTs offers access to the fantastic six core utility features of HEXGO. The only difference is how many vault keys you get. Silver provides you with one key. Gold gives you three, while Black offers a massive ten keys. Fundamentally, every vault key is an entry into the competition raffle to win NFTs.
Interestingly, these excellent utilities NFT Vault cards also provide you with entrance to the amazing HEXGO brand, and as the project keeps growing, so will the value of the NFT cards. The NFTs also come with massive rewards. As an NFT holder, you get access to physical and virtual events, store discounts and coupons, giveaways, gift cards, merchandise, and a lot more.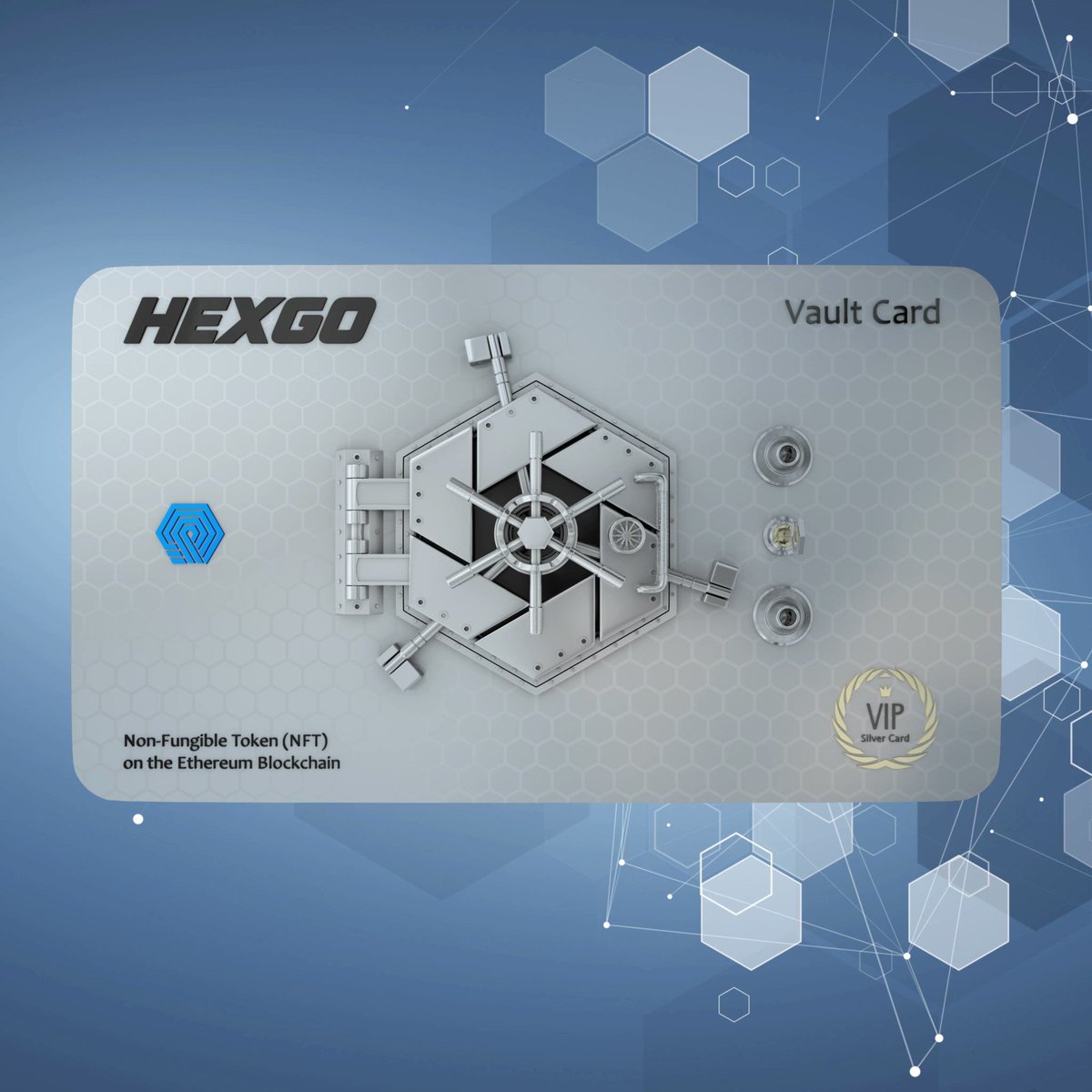 The Roadmap
A major focus for the developers is creating a worthwhile and innovative community brand that has long-term sustained hype and realistic but attractive goals. Additionally, after the VIP NFT drop, the team wants to introduce new partnerships, grow its team and relocate to a new office, develop a merchandise store and open its MS metaverse space.
In the end, do not forget that you can apply for the HEXGO NFT drop today. There is no mint price so far since it is to be decided by the community. To find out more about this project, go to the official Discord. The full NFT reveal will happen on October 9, 2022.