Gods Unchained was launched in September 2020. The free-to-play card game combines NFT components with the traditional card trading game. Gamers need to get high-ranking cards from the other participants by winning matches.
These high-quality cards used in Gods Unchained game can be traded for cryptos on the platform's marketplace. Since the game is powered by the Ethereum blockchain, players complete their transactions using Ether.
Immutable's crypto-tinged take on Hearthstone has been among the most prominent blockchain games. The turn-based fantasy card game delivers an online collectible card game experience. Players verifiably own the cards that are tokenized digital assets existing on the Ethereum blockchain.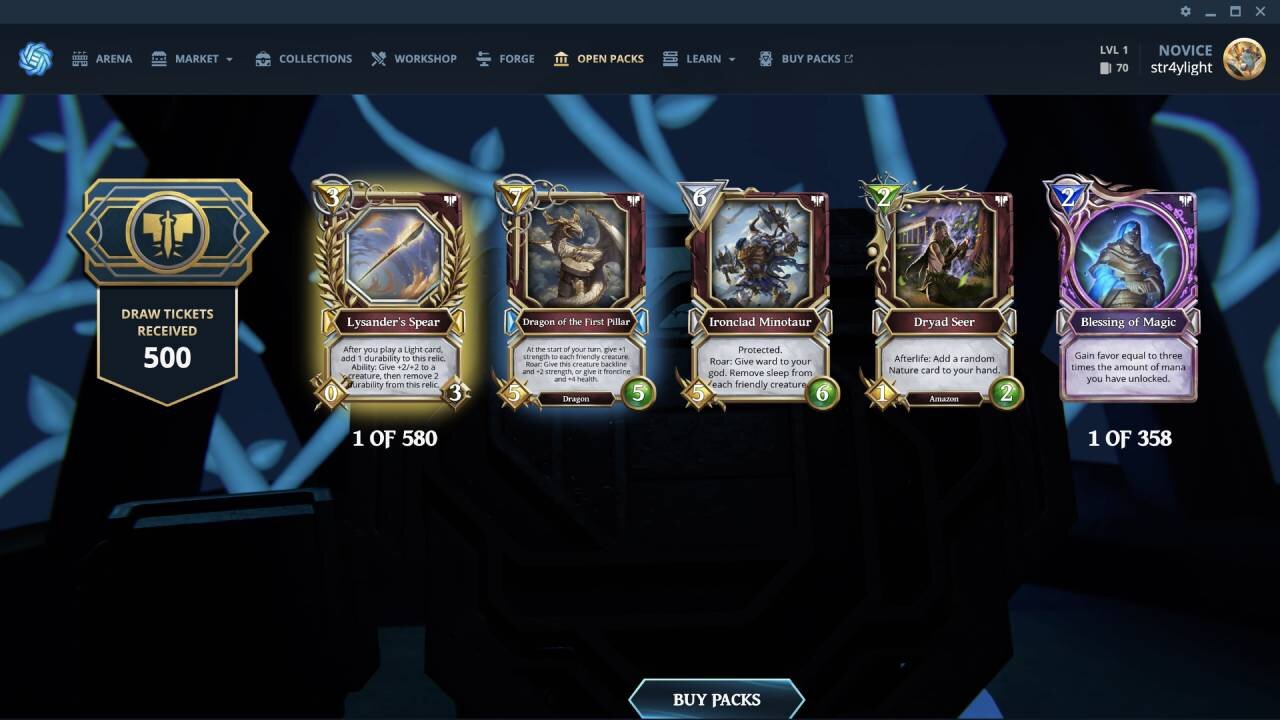 Thus, players are allowed to buy and sell these cards that range in value and rarity just like the physical card games. The game is much like Blizzard's popular Hearthstone: Heroes of Warcraft. But, it comes with fantasy-themed character and unit cards that participants play turn by turn aiming to defeat the enemy.
Gods Unchained closely resembles Hearthstone, meaning that it is easy to transition for anyone already familiar with the game, but this one has a crypto edge.
How Gods Unchained Operates
The turn-based card-battling gameplay is not based on blockchain. Analysis shows that it is the cards themselves that are powered by the nascent technology. Every non-common card is tokenized individually as a nonfungible token (NFT). It becomes a digital asset that can be authenticated and purchased and sold as the owner pleases.
In many of these games, including The Elder Scrolls: Legends and Hearthstone, these cards are just part of the game experience. They are owned and offered to the players by the publisher, meaning that there is no true ownership of them.
Instead, this card game mimics the physical card games that inspired the digital versions, including Magic: The Gathering. Gods Unchained lets you buy and sell individual cards. As is the case with physical card games, the rare digital cards in this game are quite valuable. In February 2019, a "Mythic" card was sold for a staggering $62,000.
How To Buy The Cards
When one starts the game, they will begin with 70 free cards that enable the player to use a variety of basic decks in the NFT game. Most of the other cards are made available through expansion packs. A player earns card packs as they rank up by playing matches. Also, they can acquire extra packs with real fiat money to get random additions to their collection.
The available packs for this game are sold in Legendary, Rare, Shiny-Legendary, and Epic variations. These variations sell for anything between $2.50 and $150 and each of them comes with only five cards at different rarity levels.
Immutable also sells chests that have six-packs apiece and are available in Rare ($14.99) and Legendary ($149.99) varieties. The difference from just purchasing many individual packs is that the chests can be held onto as long as one desires and can be traded at a later date, which possibly increases their value.
In the meantime, all individual cards can be purchased and sold through the available in-game Marketplace. This functionality offers a chance to boost players' decks with important additions or possibly benefit by selling off rare or duplicate cards. To do all that, players have to link an Ethereum wallet, like MetaMask, to their gaming accounts.
Having an Ethereum wallet enables the players to use any Gods Unchained cards and items within the game itself. Notably, the game's cards are nonfungible tokens (NFTs), which means that every card is unique and can be readily traded on the open market.
Players need ETH to buy anything in the game, and they can acquire it through the game's Wyre plug-in in case they do not already have the crypto in their wallet.
How To Play This Game
This game is a streamlined and competitive trading card game that is in the vein of Hearthstone. As of 2018, the game boasted at least 100 million players and has a large international esports scene. In most cases, Gods Unchained uses a similar format with small tweaks to the combat flow.
Players enter the battle with a 30-card deck fitting the theme of one of six gods. Whether the deck is premade or customized, players take turns back and forth with their opponents. One is allowed to start every turn with a specific amount of mana for spending on playing cards from their hand or using god abilities.
The available amount increases as the game progresses, enabling the use of more powerful cards in the later stages of the card game. But, Gods Unchained introduced the mana lock feature to slow the rate at which the tally of powerful cards increases after the first 5 turns. This feature enables for more back-and-forth before the top-tier cards are introduced in the game.
Interestingly, this game aims to eat into the opponent's health. Each participant starts with 30 health. You need to kill your opponent before they kill you, which is easier said than done. Most card-battlers have a rock-paper-scissors type of flow. It makes them quite slow but strategic.
However, the eventuality of the game can turn more rapidly in its later stages. Anyone with an ineffective deck learns quickly where the holes are.