On October 1, 2021, Polkastarter announced its first formal incubator project, WonderHero. During the incubation period, the decentralized launch platform will offer support, resources, and banding.
WonderHero is a play-to-earn NFT-based RPG operating on the blockchain. Through this partnership with Polkastarter Labs, the game will also receive institutional support and mentorship. The team also confirmed that through this partnership, WonderHero will receive pre-IDO and post-IDO support.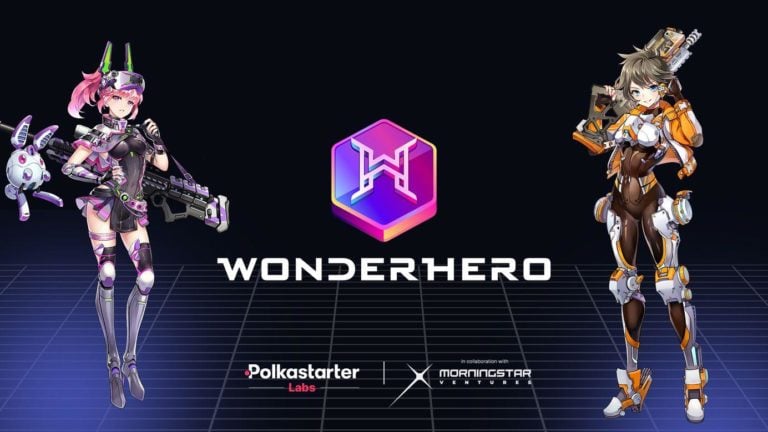 At the same time, the RPG project will enjoy mentorship while gaining unlimited access to Polkastarter's extensive network for branding, marketing, and scaling purposes. Polkastarter launchpad has so far helped launched at least 70 projects including EPNS, Thetan Arena, Ethernity Chain, and Wilder World.
It joined hands with investment firm Morningstar Ventures and together they launched a startup incubator. Using that incubator, the company aims to offer cryptocurrency's most promising projects with all the tools required for success. Polkastarter CEO and Co-Founder Daniel Stockhus commented:
"When we saw the WonderHero  project, it was the right fit with the right kind of potential we were looking for – the timing was perfect to become Polkastarter's first incubated project. The background of the team, coupled with its vision, convinced us that this project was the right selection. It is aligned with our latest initiative, Polkastarter Gaming, and we are so excited to grow this exciting market together."
WonderHero NFT Game Operations
WonderHero game is available on Android and iOS. It enables participants to earn rare nonfungible tokens (NFTs) that can be sold and even traded on a peer-to-peer (P2P) marketplace. Gamers can also participate in RPG combat and earn a set amount of tokens for winning battles.
Ethan Ng, the CEO of WonderHero, explained:
"Being chosen as the first project to be officially incubated means a lot for us, and we can't wait to roll up our sleeves and get busy in the lab with Polkastarter. Something is telling me this will prove to be one of the best business decisions we've made, and help establish WonderHero as a leader in the blockchain gaming space. We fully trust Polkastarter and are delighted to have them as a partner."
WonderHero will also get hands-on investment, and access to agencies, market makers, exchanges, and many other relevant stakeholders through Polkastarter Labs. The launchpad said in an official statement previously that is committed to helping decentralized finance projects launch and scale. It has leveraged an executive team that has a combined tech experience of at least 30 years.
Polkastarter And WonderHero Overview
Polkastarter is a wholly decentralized protocol that is designed for launching new ideas. Its curation process and sector access enable the firm to offer the best new projects within the blockchain and digital assets spaces.
With this launchpad, decentralized projects manage to raise awareness, create a loyal community, and enjoy long-term support. This platform's users can participate in a secure and compliant environment while using assets both within and beyond the current ERC20 standard.
On the other hand, the WonderHero RPG game lets players earn rare NFTs and sell them on a P2P marketplace. The developers are confident that the game will help in building a balanced universe. In this universe, many players from all levels can offer one another income opportunities while simultaneously having fun.
The game is led by a stellar team with its leadership boasting experience of operating in a top 20 cryptocurrency exchange and more than 10 years of cumulative gaming experience.
How To Play And Earn With WonderHero
This game is empowering gamers globally to have and enjoy the best of both worlds. The participants can play and earn at the same time. For anyone aspiring to become a "play to earn" gamer, WonderHero is an ideal starting point.
Players earn WND/HON coins and other valuable NFTs by succeeding and moving higher in the Battle mode (PVE). You can also earn by competing against other players that participate in the PVP battles.
In the Battle Mode, many rewards can be earned by completing Chapter missions. Every mission comes with unique challenges for the players to complete. For every challenge that is completed, the gamer is awarded 1 star. These stars are needed to unlock extra rewards that normally come with WND tokens and several other valuable items.
Interestingly, players can also earn exclusive Hero weapons by collecting adequate weapon parts that are dropped in Boss fights.
The gamers can also earn HON and other NFT drops once they win a mission. The higher the level a player gets to in the game, the more they can earn.
Each player has short-term and long-term goals. They often need to choose between using the earned coins and tokens to upgrade their NFT assets to enable them to advance to higher levels to earn more coins, or liquidate the WND to receive ETH/USDT instantly.